You are here
Princess Sumaya calls for monitoring cross-border transport of hazardous waste
By Hana Namrouqa - Jun 23,2014 - Last updated at Jun 23,2014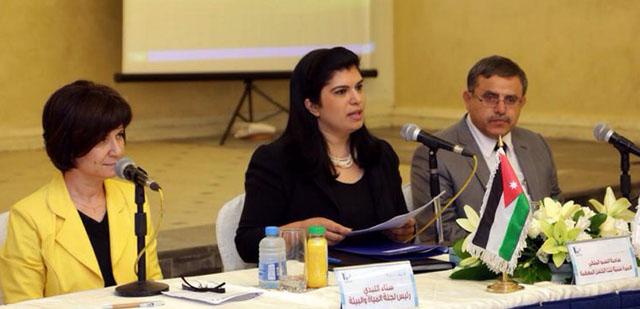 AMMAN — HRH Princess Sumaya on Monday called for creating a strict system to monitor the production and transboundary transport of hazardous waste in the Kingdom to protect public health and the environment.
The princess, president of the Royal Scientific Society, highlighted the growing global concern over the need for strict control of the movement of hazardous waste and goods, as well as for building the capacity of developing countries in the management of this type of waste.
Princess Sumaya made the remarks at a scientific day organised by the Jordanian Engineers Association (JEA) to discuss the impact of hazardous waste on the country's environment.
She underscored the importance of reducing waste production and following safe and environment-friendly methods when discarding solid or hazardous waste.
Stressing that waste must be disposed of in the country where it was produced, the princess called for activating regulations that combat cross-border transport of hazardous waste.
She said there is a dire need for developing environmentally sound technologies for reducing waste production and further encouraging the reuse and recycling of waste.
According to official figures, Jordan annually generates over 15,000 tonnes of hazardous waste, an amount that is expected to increase to 23,000 tonnes by 2017.
Each individual generates one kilogramme of solid waste every day, while 16,000 tonnes of solid waste are generated daily throughout the country.
In addition, 400 compactors are used for compressing garbage, half of which are for plastics.
JEA President Abdullah Obeidat said the Kingdom faces environment problems related to the management of solid and hazardous waste.
He noted that hazardous waste from rich countries is dumped in certain "small and weak" countries in return for money that goes to "powerful people".
Jordan is a signatory to the Basel Convention on the Control of Transboundary Movements of Hazardous Wastes and their Disposal.
The Basel convention comprises 172 states and aims to protect human health and the environment from the adverse effects resulting from the generation, management, transport and disposal of hazardous and other waste, according to the convention's website.
Related Articles
Feb 13,2014
The potential for generating money from garbage is "huge" in Jordan, as several international companies have shown interest in investing in projects to turn waste into energy, officials said Thursday.
Feb 27,2014
The Ministry of Environment will launch a campaign within a week to raise public awareness on ways of handling electronic waste, according to officials.
Nov 09,2016
AMMAN — The Cabinet on Wednesday decided to include trucks that carry flour, water, waste oil and other hazardous waste, in the GPS tracking
Newsletter
Get top stories and blog posts emailed to you each day.