You are here
Princess Sumaya opens 2nd phase of Luminus ShamalStart
By JT - Jun 29,2019 - Last updated at Jun 29,2019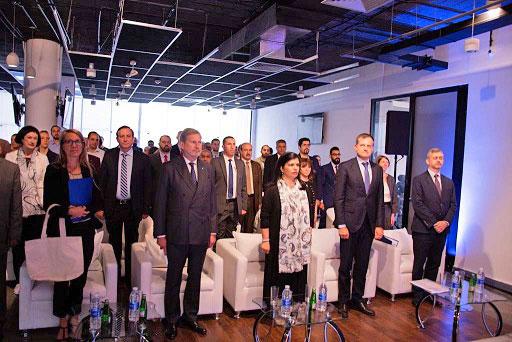 HRH Princess Sumaya at the launch ceremony of the second phase of Luminus ShamalStart on Saturday (Photo courtesy of Luminus ShamalStart)
AMMAN — Under the patronage of HRH Princess Sumaya, president of the Royal Scientific Society (RSS), Luminus ShamalStart — the leading business accelerator and seed investor in the north of Jordan — has announced the launch of its second phase.
RSS, through its business incubator, iPARK, is a Luminus ShamalStart partner managing the incubation aspect of the project, a statement from the business accelerator said on Saturday.
The ceremony was attended by EU Commissioner for European Neighbourhood Policy and Enlargement Negotiations Johannes Hahn, as well as investors, heads of associations, local incubators and accelerators.
In her keynote address, Princess Sumaya said: "Luminus ShamalStart has enriched the economic lifeblood of Irbid, Mafraq and beyond through the creation of potential-laden, innovative startups and by enabling the expertly-managed growth of existing SMEs.
"We have looked beyond mere job creation and sought to enable true wealth creation through innovative enablement. We have all helped to build careers that are worthy of the talents of our people, and we look forward to building on the accomplishments achieved in the first phase."
With the launch of the second phase, the business accelerator underscored its mission to empower makers, innovators and entrepreneurs across the Kingdom, the statement said.
Since its inception in 2016, EU-funded Luminus ShamalStart has received 3,500+ business ideas, trained 250+ teams, extended 20,000+ manufacturing hours through FabLab Irbid, incubated 100+ entrepreneurial projects, granted JD 1.2 million in seed funding and generated 300+ job opportunities, according to the statement.
Newsletter
Get top stories and blog posts emailed to you each day.