You are here
Project to train 1,500 vulnerable citizens on online tools for better integration
By Ana V. Ibáñez Prieto - Mar 11,2018 - Last updated at Mar 11,2018
The Rawabet project is launched by Jordanian community based organisation Ruwwad Al Tanmeya in Amman on Sunday (Photo courtesy of Bidaya Corp/ Ruwwad Al Tanmeya)
AMMAN — Over 1,500 youth, women and people with disabilities are set to learn how to use new technologies which will help them participate more actively in the social, economic and political life.
"Rawabet: Technological Bridges for Citizen Engagement" is a new three-year project recently launched by the Jordanian community-based organisation (CBO) Ruwwad Al Tanmeya, in cooperation with the Canadian non-profit organisation Equitas.
The initiative will bring together young leaders from Jordan, Tunisia, Morocco and Egypt in order to teach trainees how to use online tools and action research to promote social and economic rights.
"This initiative is aligned with Ruwwad's programmatic approach, which focuses on building youth's skills and collective capacity through access to education, citizen engagement and grassroots organising," Ruwwad Regional Director Samar Dudin told The Jordan Times, noting that "the project will enhance the skills and civic responsibility of 32 youth in East Amman, who will be launching neighbourhood initiatives to mobilise another 550 community members".
"The selected young leaders will be receiving online education in order to achieve a deeper understanding of how to provide community based action from the perspective of individuals suffering from specific issues," Dudin continued, adding that the young leaders will also "learn how to engage in communication with decision makers in the municipalities, civil society organisations and media".
"Our aim is to help young people initiate change within their communities through conversation with both decision makers and those suffering from local issues," she pointed out, stressing that "the goal is to contribute to building inclusive communities that take into account youth, women, and persons with disabilities".
For his part, Equitas Executive Director Ian Hamilton said that "the new initiative stands for 'connection', which is what it is creating today with the Jordanian youth", expressing that "at a time when voices of youth, women and other marginalised groups remain largely unheard, working with Ruwwad for the next three years will help remove barriers to meaningful participation and empower these groups".
The partnership between Ruwwad and Equitas goes back to 2010, with the implementation of the educational toolkit "Play It Fair", aimed at helping children understand human rights values through games.
"Our long term relationship with Equitas is based in our commitment to a human rights based approach, and our belief in the idea that educating with such approach is essential in developing a new generation inclusive of all identities," Dudin said.
The collaboration between both organisations also included reinforcing youth social responsibility and participation in children's literacy programmes in East Amman schools, where over 200 children have benefited from youth-led activities.
Funded by the Government of Canada through Global Affairs Canada, the new project also includes the Centre for Victim of Torture — New Tactics Programme, the Association Marocaine Pour l'Éducation de la Jeunesse-Fes, Centre Tunisien Méditerranéen and the Horus Foundation for Training and Development.
Related Articles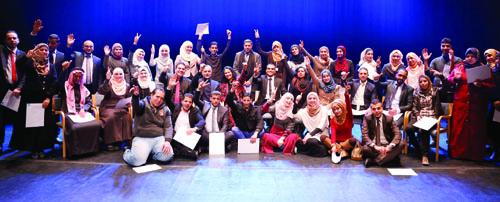 Dec 02,2014
Ruwwad Al Tanmeya this week celebrated the graduation of 50 young scholars who successfully completed their education at local universities and vocational colleges this year. 
Dec 04,2016
AMMAN — Ruwwad Al Tanmeya community empowerment organisation has recently celebrated 45 Jordanian graduates who completed their higher educa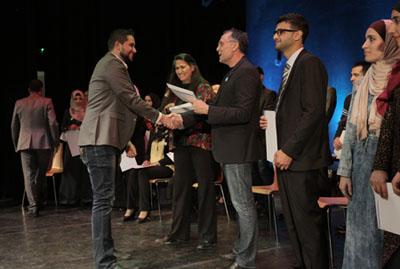 Nov 29,2015
AMMAN — Fifty-two new university graduates were honoured on Saturday at a ceremony recognising their completion of Ruwwad Al Tanmeya's schol