You are here
Public agencies providing 100 online services — Shweikeh
By Mohammad Ghazal - Jan 09,2016 - Last updated at Jan 09,2016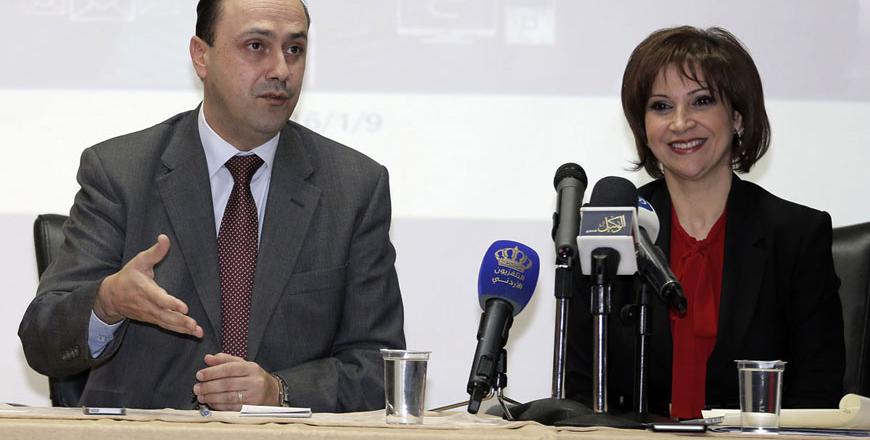 Government Spokesperson Mohammad Momani and ICT Minister Majd Shweikeh hold a press conference in Amman on Saturday (Petra photo)
AMMAN — Public agencies currently provide 100 e-services to citizens and more will be launched in the next few years, the government said Saturday.
The available services can be fully conducted online, from submitting an application or starting a transaction until completion and payment, ICT Minister Majd Shweikeh said at a press conference.
"This is a great achievement and citizens and users will start to feel the impact and difference of using such services."
Shweikeh added that the government will introduce an additional 100 e-services in 2016-2017 and 150 e-services in 2018-2019 under the third phase of the programme, which seeks to enhance the level of services and save time and effort.
Several e-services are currently provided by the finance, justice and municipal affairs ministries, the Jordan Customs Department, the Greater Amman Municipality and the Social Security Corporation (SSC), among others.
These services include licence renewals for commercial establishments, inquiries about and settling real estate taxes, optional subscriptions to the SSC and the payment of dues electronically.
They also include inquiring about and paying traffic tickets, issuing security clearance documents and other services at the Ministry of Justice, and several services at the Income and Sales Tax Department.
During Saturday's press conference, Government Spokesperson Mohammad Momani stressed the government's support to several projects in the ICT sector, such as the National Broadband Network and smart ID cards.
Momani, who is also minister of state for media affairs and communications, said e-services will help trigger growth in several economic fields and also enhance the ICT sector, which is a pioneering sector at the regional level.
Shweikeh noted that the government will implement several major ICT projects in the near future, underscoring that public-private partnerships are crucial to advance the sector and provide further services.
The launch of additional e-services in Jordan comes at a time when smartphone penetration exceeds 70 per cent, she added.
Authorities formally launched the e-government programme in 2006 with a view to streamlining bureaucracy and providing efficient services to Internet users.
Related Articles
Jan 18,2016
AMMAN — The government will start adopting e-signatures in all transactions during the first quarter of this year, a government official sai
Jun 21,2016
AMMAN — The government will launch 50 new e-services by the end of the year, ICT Minister Majd Shweikeh said on Monday. The new service
Oct 08,2017
AMMAN — Prime Minister Hani Mulki on Saturday said that the government's Economic Growth Plan (EGP) aims to automate procedures to rea
Newsletter
Get top stories and blog posts emailed to you each day.