You are here
Purdue, Jordan partner to address regional, global health challenges
By JT - Nov 06,2017 - Last updated at Nov 06,2017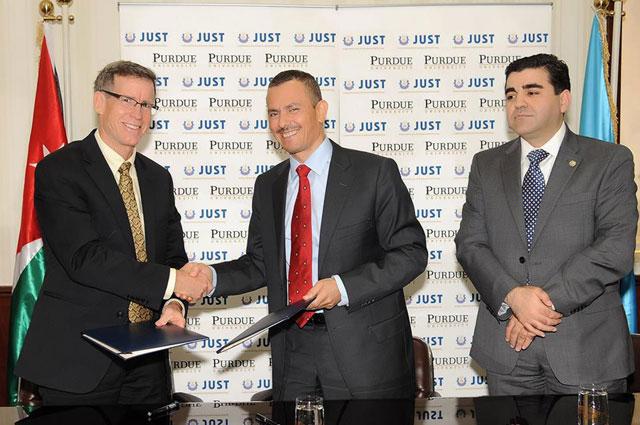 E. Daniel Hirleman, Purdue's chief corporate and global partnerships officer, shakes hands with Omar Al Jarrah, president of the Jordan University of Science and Technology, as Khalid I. El Salem, vice president and FAAN professor of Neurology at JUST, watches, following the agreement to establish the Regional Centre for Infectious Diseases and Antimicrobial Resistance (Photo courtesy of US embassy)
AMMAN — Purdue University, the Jordan University of Science and Technology (JUST), and the Council of Higher Education of Jordan have agreed to establish the Regional Centre for Infectious Diseases and Antimicrobial Resistance, according to a statement posted on Monday on the official Facebook page of the US embassy in Amman.
Through the centre, Jordan, a partner in the Global Health Security Agenda, and other nations in the region will work together to reduce the threat of infectious diseases and antimicrobial resistance globally.
The centre will be part of JUST, and as a co-founding academic partner, Purdue will play a principal role in its launch and early-stage development. As educational degree programmes are established, the centre is expected to become an institute, according to the statement.
The centre "aligned well with the university's strategic plans, and will bolster our pioneering role in responding to the urgent necessities for protecting human and animal health, and preserving the safety and security of food and the environment", Professor Omar Al Jarrah, the president of JUST, was quoted in the statement as saying
E. Daniel Hirleman, Purdue's chief corporate and global partnerships officer, said in the statement: "The unique health challenges of this region provide an opportunity for global collaboration and for demonstrating the practical impact of university innovations. We are excited to be a founding partner in this effort and to have such an impact on global health challenges."
Hirleman and Jarrah said as the institute develops it will "revolutionise" efforts to mitigate national, regional and global threats of infectious diseases and to provide rapid and effective responses.
For the first time, the institute will put into place the mechanisms and logistics to combine national and regional multidisciplinary expertise to spearhead research and training in infectious and zoonotic diseases, disease diagnosis, vaccine development and immunology, the statement read.
In addition, the institute will facilitate rapid epidemiological surveillance, tracking and response to emerging diseases and antibiotic resistance that has increasingly become a serious issue, according to the statement.
Hirleman said Purdue was "well-positioned" to contribute to this effort, especially through the Purdue Institute of Inflammation, Immunology and Infectious Disease (PI4D), a pillar of its Life Science initiative.
Jarrah said the institute will maximise the use of existing scientific expertise and equipment in areas of bacteriology, parasitology, virology, biological sciences, epidemiology, infectious diseases, statistics, immunology, medicinal chemistry, pharmaceutical sciences, medicine and public health.
Related Articles
Jun 08,2018
AMMAN — The Jordan University of Science and Technology (JUST) on Wednesday was selected among the 101-150 best universities in the world in
Sep 06,2017
AMMAN — The Jordan University of Science and Technology (JUST), the University of Jordan (UJ) and the Hashemite University on Tuesday were l
Jul 31,2017
AMMAN – With a quarter of Jordanians — around 3 million — suffering from some type of allergy, experts have been calling for measures to imp
Newsletter
Get top stories and blog posts emailed to you each day.