You are here
'Quarter of bread bought by consumers goes to waste'
By Omar Obeidat - Jan 21,2015 - Last updated at Jan 21,2015
AMMAN — Most consumers in Jordan throw away nearly a quarter of the bread they buy, according to estimates, a figure seen by officials as alarming enough to call for reviewing the subsidy system.
According to Minister of Industry, Trade and Supply Hatem Halawani and Bakery Owners Association (BOA) President Abdul Ilah Hamawi, low bread prices due to subsidised flour supplied to bakeries have contributed to wasteful consumer behaviour.
"When it comes to bread, negative consumer habits are common, with people buying beyond their actual needs," Hamawi said, indicating that around a quarter of the bread consumers buy is usually thrown away.
For example, a household may need bread worth JD0.70 or a little more, but the family buys bread worth JD1 instead, the BOA president said.
"You can see the extra bread thrown near garbage bins," he added.
Confirming Hamawi's figures, Halawani said the mechanism of subsidising bread should be revised in order to guarantee that only Jordanians, particularly vulnerable segments, benefit from government support.
"It is true that people throw away a quarter of the bread they buy," he noted.
The over-purchase of the subsidised bread is a burden on the state budget, Halawani told The Jordan Times, noting that subsidy reforms are needed to cut waste and state spending on flour.
However, there are no plans to change the current subsidy system this year, the minister said.
Hamawi indicated that one kilogramme of bread is sold at JD0.160, while the actual cost on the Treasury is JD0.450 a kilo. The government sells flour to bakeries at JD36 per tonne while its real cost is around JD305 per tonne, according to official figures, which put the overall value of the flour subsidy at around JD260 million per year.
Everyone who lives in the Kingdom benefits from the government's subsidy, Hamawi said, adding this support should be directed to Jordanians only.
Around 10 million people live in the Kingdom, 6.6 million of whom are Jordanians, according to official estimates.
Hamawi agreed with Halawani's on the need to change the subsidy system, but suggested a gradual rise in bread prices over a period of three to four years and supporting vulnerable households with cash payments.
Responding to a question on whether the government was still considering introducing smart cards for consumers to crack down on waste, Halawani said the idea is currently on hold.
Excessive consumption during blizzards
Halawani and Hamawi cited the amount of bread bought ahead of the snowstorm that hit the Kingdom earlier this month as an example of the huge waste in the subsidised product.
According to the minister's estimates, consumers bought over 140 million loaves of bread in four days and threw away around 40 million loaves.
The quantity bought by consumers was enough to cover the needs of 25 million people, he said.
Describing the amount of bread discarded during the blizzard as painful, Halawani noted this waste happens not only during cold weather but it is a daily scene all year round.
Subsidised flour is not subject to waste in consumption but there are widespread reports that breeders use bread to feed their cattle and sheep because it is cheaper than fodder.
Freezing bread as solution
Amneh Maswadeh, from Amman's Bayader Wadi Al Seer neighbourhood, said she buys bread for three days but stores it in the freezer to keep it fresh.
"We never throw away bread because it is against the values of our religion and culture," the housewife said.
However, Maswadeh said she usually sees bags of bread thrown away near her apartment building.
Related Articles
Feb 10,2015
Stakeholders on Tuesday urged consumers to maintain "a reasonable" demand on bread and food items in the next few days, when a cold air mass is expected to take effect, bringing strong winds, rain and snow.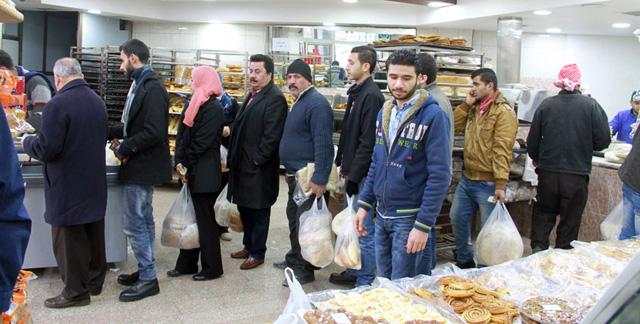 Jan 04,2015
There is no need to buy large amounts of bread to prepare for the expected severe weather this week as the Kingdom's flour reserves are enough for an entire year, a sector leader said on Sunday.  
Jun 29,2015
AMMAN — The Bakery Owners Association expects a slowdown in production during Eid Al Fitr, citing "insufficient" supplies of subsidised flou
Newsletter
Get top stories and blog posts emailed to you each day.