You are here
Queen calls for active steps to reduce maternal, newborn mortality rates
By JT - May 29,2014 - Last updated at May 29,2014
AMMAN — During a visit to Canada on Thursday, Her Majesty Queen Rania took part in a summit on maternal, newborn and child health (MNCH) and witnessed the signing of a letter of intent outlining Canadian support for education in Jordan.
Hosted by Canadian Prime Minister Stephen Harper, the three-day summit, titled "Saving Every Woman, Every Child: Within Arm's Reach", marks "a significant opportunity to embed the goals and targets related to MNCH into the post-2015 global development framework", according to a statement from the Queen's office.
During the event, Her Majesty, who is UNICEF's first Eminent Advocate for Children and a mother of four, addressed the audience and said that although maternal deaths have dropped by 45 per cent worldwide and global under-five mortality rate has decreased by almost half, much remains to be done to further decrease these numbers.
"Every minute-and-a half, a woman dies from complications of pregnancy or childbirth," she said.
"Every day, 18,000 children under-five die from causes we can prevent, and every year, 2.9 million newborns die. That's a little more than the population here in Toronto. An additional 2.6 million babies are stillborn. Another Toronto."
Queen Rania described these statistics as an outrage and an injustice that must not be seen as commonplace.
She outlined several significant approaches that could further reduce maternal and newborn mortality rates.
Her Majesty called on attendees to lend their support to the soon-to-be-launched "Every Newborn Action Plan", which will focus attention on newborn health and identify actions for improving survival, health and development.
This action plan works to advance the goals of UN Secretary General Ban Ki-moon's Global Strategy for Women's and the Children's Health and Every Woman, Every Child movement.
Her Majesty explained that up to two-thirds of newborn deaths could be avoided if skilled health workers attended births and were on-hand during the first week of a newborn's life, adding that "the action plan is our best chance yet to change the birth of a child from something to be feared into what it should be: a cause for celebration."
The Queen also shed light on particular challenges facing MNCH in conflict-affected countries, and asserted the need to reach these areas.
She explained how the civil war in Syria shattered a nation's health system, and that the care for pregnant women, mothers and their newborns is precarious.
"I'm thinking about the woman who gave birth on the doorstep of a hospital even as the hospital was bombed. Or the woman, just last month, forced to give birth on a Lebanese street because she couldn't pay the hospital upfront.
"Or the woman so traumatised by the death of her husband and finding shelter for her family, who went into labour at seven months. With no hospital nearby, friends helped to deliver her baby son. He lived for two hours," Queen Rania said.
She highlighted the need to invest in girls' education, noting that children of literate mothers are 50 per cent more likely to survive past the age of five than children of mothers with no schooling.
As a member of the UN Secretary General's high-level panel, which was formed to advise on the global development agenda beyond 2015, Her Majesty told the audience that girls and women must be at the heart of the agenda.
"Girls and women are the backbone of development progress. That's why in my time on the high-level panel, we urged that gender equality not only permeate all the new goals but, also, that it be a stand-alone goal."
Talking about innovation as another means to combat maternal and child mortality, Her Majesty told the audience that the number of active cell phones is estimated to reach 7.3 billion devices worldwide, and that two out of every three of these new mobile phone subscribers are women.
This "means that women in the poorest communities, furthest from healthcare, can access basic medical information", she said.
"It means that community health workers can track pregnancies and connect to doctors. In other words, it means, a doctor in their pocket… a prescription in their hand… and a healthier future at their fingertips."
The Queen thanked Harper and the Canadian government for hosting the summit, which brings together around 300 participants representing Canadian and international experts, civil society, business, academia, developed and developing countries, international organisations and global foundations.
Also during her visit to Canada, Queen Rania witnessed the signing of a letter of intent outlining Canada's support and commitment to improving education and teacher training in Jordan.
The Canadian government will support the Ministry of Education through funding pre-service training of teachers, developing an accountability framework, sustaining block grants for continued school improvement and building its capacity.
The Canadian government will also support the Queen Rania Teachers Academy (QRTA). The funds will help QRTA expand its existing teacher training and network programmes in order to reach thousands of teachers across the Kingdom.
Jordan's Ambassador to Canada Basheer F. Zoubi and Canada's Ambassador to Jordan Bruno Saccomani signed the letter.
Related Articles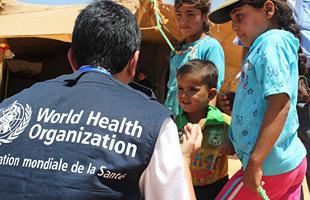 Sep 11,2017
AMMAN — Maternal and child health programme managers from countries of the Eastern Mediterranean region and six key international agencies m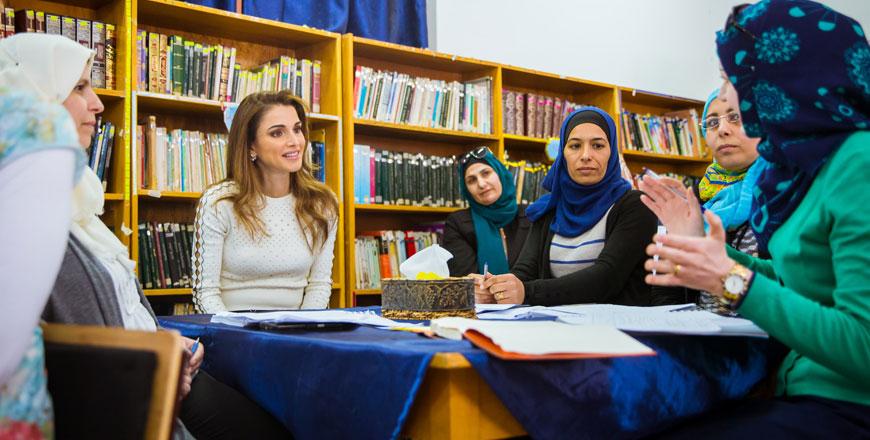 Apr 19,2016
AMMAN — Her Majesty Queen Rania on Tuesday visited Al Khansaa Secondary School for Girls in Amman and attended part of Queen Rania Teacher A
Oct 29,2014
Her Majesty Queen Rania on Wednesday honoured schools accredited by the Royal Health Awareness Society's (RHAS) Healthy Schools Programme.
Newsletter
Get top stories and blog posts emailed to you each day.