You are here
Queen checks on progress of income generating projects in Zarqa town
By JT - Jan 23,2017 - Last updated at Jan 23,2017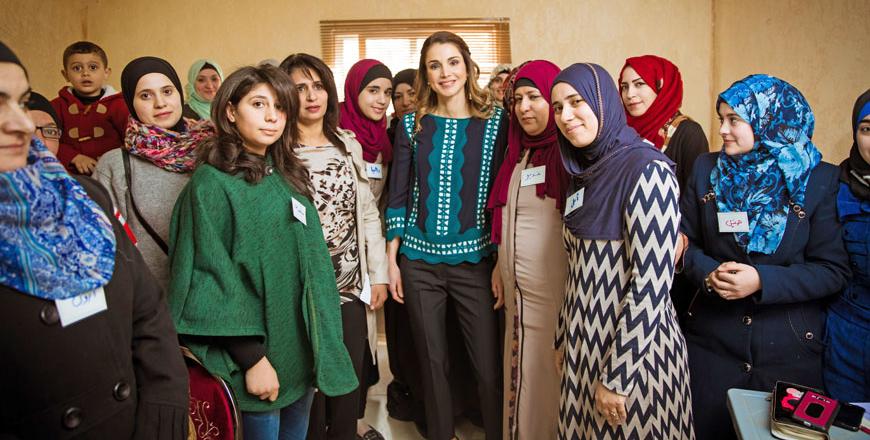 Her Majesty Queen Rania meets with residents of Hashemiyat Al Zarqa district on Monday (Photo courtesy of Royal Court)
AMMAN — Her Majesty Queen Rania visited Hashemiyat Al Zarqa district in Zarqa Governorate on Monday to check on the progress of a number of small income generating projects funded by an initiative to improve the living conditions of underprivileged families.
The visit follows a financial grant scheme issued by the Royal Court and implemented by the Community Centre Association (CCA) in coordination with 23 societies, working with the Ministry of Social Development and local administrative authorities, according to a statement issued by Her Majesty's office.
The grant carries out development projects that cater to 286 families in the governorates of Zarqa, 23km northeast of the capital, and Mafraq, 80km northeast of Amman, with the CCA providing guidance to the beneficiaries on how to create their own income generating projects.
Founder of the CCA, Sari Nasser, and its president, Firyal Saleh, joined Her Majesty while she toured Al Hashemiyah Women Society for Social Development with its president, Fatmeh Al Jamal.
Established in 2010, the society provides services to women, underprivileged families, students, orphans and disabled people.
Queen Rania also dropped by a business workshop conducted by the youth development and non-profit organisation INJAZ on how to convert a business idea into an actual project, as well as a child health awareness session for women, and three classes for children with disabilities.
The Queen also visited local resident Hussein Al Hindawi's thriving kiosk, which he was able to set up through a grant from the Royal Court.
The small business has been helping Hindawi, who is visually disabled, make a living to support his family.
Her Majesty then attended a meeting with 50 community leaders representing the heads of societies currently managing the funds and providing guidance to its beneficiaries.
The meeting, which was moderated by Saleh, included testimonials from beneficiaries highlighting the impact the projects have had on their living conditions.
Addressing the audience, Her Majesty said she was thrilled to see their hard work and determination materialise into constructive projects, despite the difficult economic conditions Jordanians are reeling under.
The Queen commended their creative projects and thanked the CCA for its efforts in building strong partnerships with local charities that have ensured the success of the projects.
Before ending her visit to Zarqa, Queen Rania visited the female-headed household of Rana Al Jamal, who has successfully launched a home business to support her four children, according to the statement.
Related Articles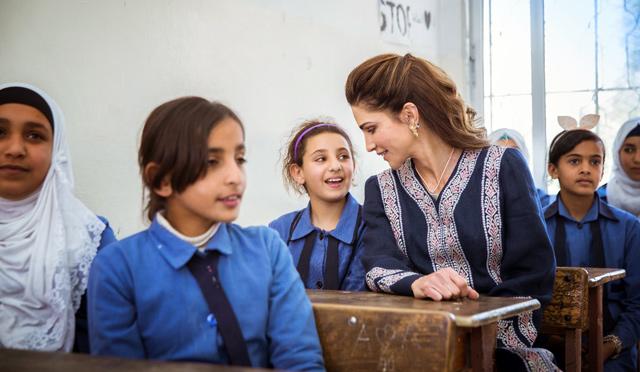 Apr 24,2018
AMMAN — Her Majesty Queen Rania on Tuesday visited the village of Hayyan Rwaybed in Mafraq Governorate where she met with members of the loc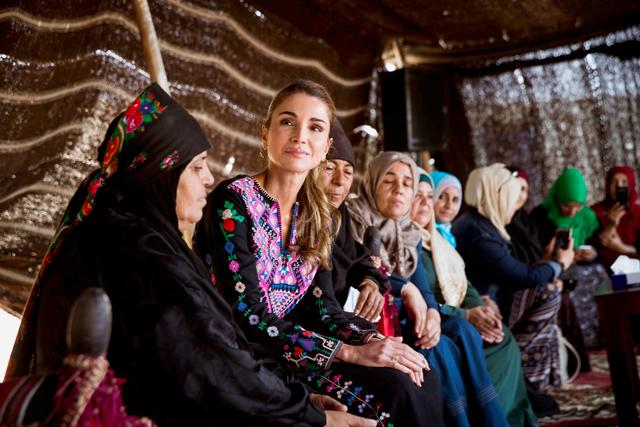 Sep 11,2017
AMMAN — Her Majesty Queen Rania on Monday visited Al Hallabat area of the Zarqa Governorate, where she met with families, educators, local r
Mar 30,2015
Economic empowerment is "a tool for quality and positive change", Her Majesty Queen Rania said Monday, noting that small projects that grow steadily can have ripple effects across the community.
Newsletter
Get top stories and blog posts emailed to you each day.