You are here
Queen meets young Jordanians competing in Challenge Cup
By JT - Dec 09,2014 - Last updated at Dec 09,2014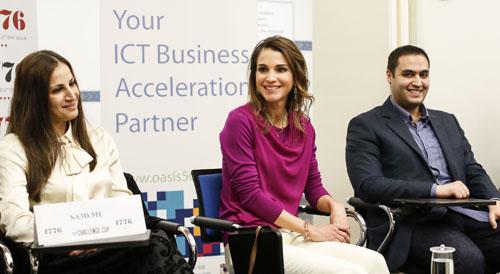 AMMAN — Her Majesty Queen Rania met on Tuesday with young people participating in the Challenge Cup Amman competition held at the Oasis500 premises in the capital.
In line with Her Majesty's desire to ensure that Jordanian start-ups get the best expertise, exposure and training to grow their companies and compete globally, the Queen interacted with founders of various companies and learned more about their visions and challenges.
During the visit she was briefed on the Challenge Cup Amman competition by Yousef Hamidaddin, CEO of Oasis500, and Donna Harris, co-Founder of 1776, according to a statement from Her Majesty's office.
The Queen then attended a roundtable discussion titled "Mobility and Cities" which was attended by founders of 12 start-ups. The industry roundtables provide an opportunity for participating start-ups to meet with experts in their field to talk about their challenges in an industry-focused setting.
Her Majesty listened to the founders explain the ideas behind their projects and engaged with them in a discussion about the challenges they face and how they plan to overcome them.
She also attended a workshop titled "Pitch Coaching" where a number of young Jordanians presented one-minute pitches that briefly explained the reason behind starting their projects and why they think their ideas are capable of competing in today's market.
The Queen expressed her pride in the participants and said she was impressed with their projects, which "have great potential".
Her Majesty also encouraged them to keep on developing their projects and gave them advice on how to improve their presentation techniques when pitching their ideas to investors.
Held for the first time in Jordan, the global Challenge Cup competition is run in 16 cities from 11 countries around the world to identify and celebrate the most promising start-ups tackling the biggest challenges in four categories: mobility and cities, education, energy and health.
The Amman edition of the competition is organised by the Washington, DC, based incubator 1776 and Jordanian seed investment company Oasis500.
Various businesses can participate in the two-day competition, where four winners, selected out of 40 participants, will go on to participate in the Challenge Cup 2015, which is part of the Challenge Festival set to be held in Washington, DC, next year.
The Challenge Festival in Washington, which will include 64 companies from different countries, is a weeklong opportunity for start-ups to connect with corporate partners, policy makers and potential investors, as well as compete for $650,000 in prizes, the statement said.
"Jordan has become a leading hub for innovators who are leveraging their creativity to drive positive change in complex, entrenched industries," the statement quoted Harris as saying.
Oasis500's Hamiddadin said Jordanian entrepreneurs have what it takes to compete internationally.
"We are hopeful that qualifying companies from Jordan and the region will reach the finals and benefit from international expertise in the field of entrepreneurship," he added.
Related Articles
Mar 30,2014
Oasis500, an Amman-based investment company that supports entrepreneurs, is organising a global initiative that aims to identify and reward aspiring entrepreneurs who are developing promising technologies that tackle urban challenges.
May 10,2018
AMMAN — The EBRD on Thursday signed a Memorandum of Understanding with seed investment and accelerator company Oasis500, foreseeing EBR
Jun 18,2014
Her Majesty Queen Rania on Wednesday attended the launch of Oasis500's new investment track, the Creative Industries Fund, which will support and invest in artistic and cultural entrepreneurship.
Newsletter
Get top stories and blog posts emailed to you each day.