You are here
Queen meets with Youth Leadership Programme participants
By JT - Feb 27,2012 - Last updated at Feb 27,2012
AMMAN — Her Majesty Queen Rania on Monday met with 32 participants of the Youth Leadership Programme and was briefed about the initiative and how it benefits young people.
The Youth Leadership Programme, "Towards an Empowered Generation", which started in 2009 and is held annually, is one of several offered by the Queen Rania for Family and Child Centre.
During the meeting, the participants talked about the application process they had to go through and the activities they have taken part in to date, such as the Aqaba boot camp, according to a statement from Her Majesty's office.
The Queen commended the participants' positive attitude and giving spirit, noting that all the challenges they faced during the training programme can only develop and hone their leadership skills and abilities.
Each year, young people from different public and private universities participate in a five-day training course.
This year 32 participants took part in the course, which took place in January in Aqaba, the statement said.
This year's training included skills ranging from team building, setting goals, communication skills and self-development to participation through project planning.
As soon as the Youth Leadership Programme ends, the youth leaders will start preparing for the Youth Summer Volunteer Programme, an annual programme that engages an average of 250 volunteers from different public and private schools in Amman.
The summer camp includes activities with children at the Queen Rania Family and Child Centre and Dar Al Aman, a child safety centre, in addition to maintenance activities at different facilities located in Jabal Naser, such as schools and parks.
Young people also participate in the Youth Leaders Preventing Violence Programme in cooperation with UNHCR, Raising Awareness on Violence Against Women and Children through Theatrical Play in coordination with Vital Voices, and the Youth Empowerment Programme — supported by International Medical Corps.
Related Articles
Feb 06,2012
Her Majesty Queen Rania on Monday joined beneficiaries, volunteers, workers, donors and partners of Al Aman Fund in a celebration marking its fifth anniversary.
Jan 11,2012
Her Majesty Queen Rania on Wednesday paid a visit to Dar Al Aman, where she checked on the facilities and received an update on the latest methods being used to deal with abused children and their families.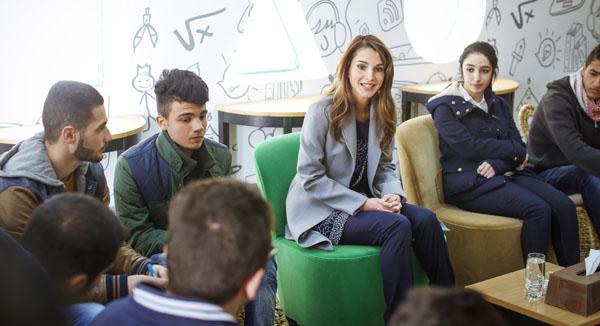 Feb 10,2015
Her Majesty Queen Rania on Tuesday visited the Jordan River Foundation's (JRF) Queen Rania Family and Child Centre (QRFCC), and toured the renovations and new facilities aimed at providing comprehensive services for child safety and protection. 
Newsletter
Get top stories and blog posts emailed to you each day.