You are here
Queen Rania commends collaborative efforts behind success of Al Aman Fund
By JT - Dec 14,2014 - Last updated at Dec 14,2014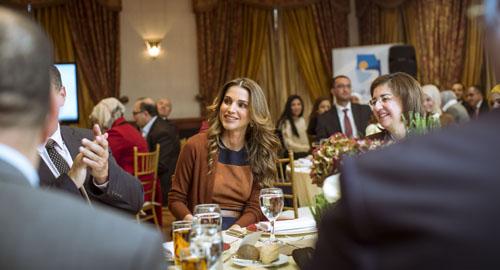 AMMAN — Her Majesty Queen Rania on Sunday attended a lunch held in recognition of sponsors and supporters of Al Aman Fund for the Future of Orphans.
During the lunch, held at King Hussein Club in Amman and also attended by members of Al Aman Fund Board and Board of Trustees, the Queen thanked all attendees for their support, according to a statement from Her Majesty's office.
Queen Rania noted that the fund is not an initiative or a project that can succeed on its own, as its success relies heavily on the support of the community and the help of all partners.
She added that when King Hussein visited an orphanage, he relayed the message that orphans are everyone's responsibility. "That visit left a huge impression on me, which led me to establish Al Aman Fund."
Queen Rania also talked about the day she started Al Aman initiative in 2003 and how she felt the children's happiness.
Now after 11 years, these children have become established young adults, and without the help of the fund's sponsors, that would not have been possible, Her Majesty noted.
The Queen stressed that the fund means so much to her as it represents the closeness and collaboration between all Jordanians, because without the support of all stakeholders, the initiative would not have been able to succeed.
Addressing the fund's supporters, she said that parents are usually the ones taking care of their children, "however, you took it on yourselves to support these orphans and help them build a better and brighter future."
Queen Rania also thanked Al Aman Fund beneficiaries for their ambition and enthusiasm, and for taking responsibility for their future, encouraging them to become role models for other orphans.
She added that although Al Aman Fund provides orphans with opportunities, they have to have the strength and will to change the course of their lives.
Since 2008, the fund has reached more beneficiaries from different parts of the Kingdom, including those living in various local orphanages, according to Al Aman Fund acting Director Ibrahim Al Ahmad.
He said the fund also offers various training workshops for beneficiaries to improve their skill sets and enable them to compete with their peers in the job market.
In addition, starting next year, the fund will offer distinguished students postgraduate study programmes so they can complete their higher education, Ahmad added.
Her Majesty and attendees also watched a video about the fund's goals and achievements, featuring success stories of a number of orphans, the statement said.
To date, 2,560 orphans have benefited from Al Aman Fund's education scheme, out of which 580 are from poverty pockets while 600 are from different orphanages.
A total of 1,461 orphans have graduated from Al Aman Fund's different educational schemes, while 730 orphans are currently enrolled in different universities and vocational centres.
Al Aman Fund covers fees for students studying in Jordan, whether in universities, community colleges or vocational training centres. It also covers fees for different training courses including IT, English language and others that could improve orphans' skills so they succeed in the job market.
In addition, the fund covers the cost of living expenses, stationery and transportation through a monthly allowance that is given to beneficiaries, according to the statement.
The fund also helps orphans who finish high school select a university major or an appropriate vocational training course that best fits their skills and abilities, and meets the requirements of the job market.
It also gives orphans guidance on how to fill out their university applications and supports them so they overcome any challenges they might face.
The fund continues to support beneficiaries after graduation and helps them find jobs that suit their skills.
Al Aman Fund for the Future of Orphans
Founded by Her Majesty Queen Rania in 2006, Al Aman Fund for the Future of Orphans is an independent NGO that is registered under the Ministry of Social Development to support the neediest of young orphans in Jordan.
Al Aman Fund targets two different types of orphans:
Boarding orphans who have resided in care centres for part or all of their childhood
Non-boarding orphans living in poverty with a guardian or an immediate relative who have been supported by Orphan Support Organisations.
Related Articles
May 17,2015
Her Majesty Queen Rania on Sunday met with members of the Al Aman Fund for the Future of Orphans board of trustees and congratulated them and the fund's team on the occasion of its 10th anniversary.
Jun 17,2015
AMMAN — Al Aman Fund for the Future of Orphans has launched a Ramadan campaign to motivate the community to donate to cover the education ex
May 06,2014
Her Majesty Queen Rania on Tuesday emphasised the importance of guiding young people towards vocational training opportunities that best suit the demands of the current job market. 
Newsletter
Get top stories and blog posts emailed to you each day.