You are here
Queen Rania, Dutch Queen visit The Hague Mondriaan regional training centre
By JT - Mar 21,2018 - Last updated at Mar 21,2018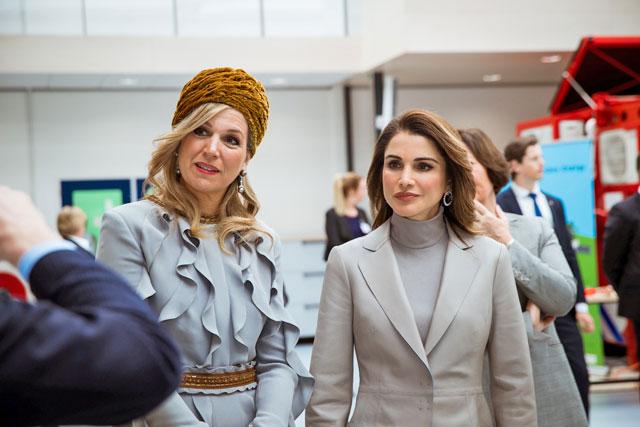 Her Majesty Queen Rania and Her Majesty Queen Maxima of the Netherlands visit the Technology and IT Campus of the Mondriaan Regional Training Centre in The Hague on Wednesday (Photo courtesy of Royal Court)
AMMAN — Her Majesty Queen Rania on Wednesday visited the Technology and IT Campus of the Mondriaan Regional Training Centre (ROC) in The Hague, while accompanying His Majesty King Abdullah on an official visit to The Netherlands, a statement by Her Majesty's Office said.
Joined by Her Majesty Queen Maxima of The Netherlands and Deputy Mayor of The Hague Saskia Bruines, Queen Rania met with the centre's Chairman of the Board of Directors Pierre Heijen, its Director Wilma Verhoeks and a number of students, teachers and business figures affiliated with the centre.
The meeting focused on the integration of traditional and vocational education at Mondriaan, and its role in enhancing student employability post-graduation.
Queen Rania also stopped by workshops run by the School of Building and Infrastructure, and the School of Automotive Engineering and Mobility, including Brainbox Energy, Sand Sailor — a workshop on reconstructing an old ship — Ekolectric, Worldskills Megatronics, and Car Mechanical and Body Workshop.
The Mondriaan Regional Training Centre has multiple offices across The Netherlands, including in Delft, Leiden, and Naaldwijk. It currently offers a broad range of courses in secondary vocational education, adult education, company training, and function-oriented training, with the aim of contributing to economic and social development and promoting social participation, according to the statement.
The centre also provides 200 vocational training courses that cover 13 different professional fields, including retail, logistics, culinary arts, tourism, welfare, ICT and auto technology, among others.
Newsletter
Get top stories and blog posts emailed to you each day.