You are here
Queen recognises Jordan River Foundation supporters for empowering local communities
By JT - May 08,2018 - Last updated at May 08,2018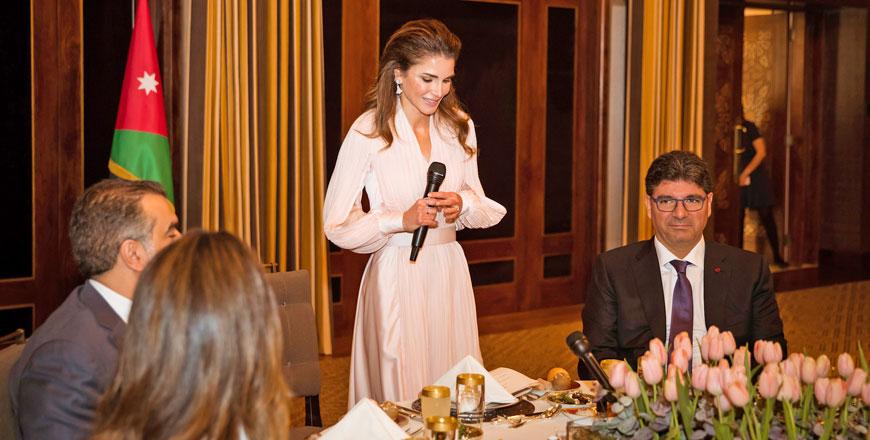 Her Majesty Queen Rania thanks the major donors of the Jordan River Foundation at Al Husseiniya Palace on Tuesday (Photo courtesy of Royal Court)
AMMAN — Her Majesty Queen Rania, chairperson of the Jordan River Foundation (JRF), on Tuesday expressed her gratitude to major donors, including organisations, corporations, and individuals, that have supported JRF this year, commending their crucial role in building the capacity of Jordanian communities, a statement by Her Majesty's office said.
Speaking at a luncheon held in honour of JRF supporters at Al Husseiniya Palace, Queen Rania lauded donors' support of JRF's mission and its empowerment of women, explaining that an investment in women is also an investment in their families and communities.
Noting that generosity has never been more important than it is today in light of difficult economic conditions, Her Majesty added that it is unfortunate that women are always last in line for opportunities.
Through donor contributions, JRF is able to train women in various handicrafts, "lifting them from a life of dependency to one of productivity, and replacing a sense of helplessness with one of dignity and pride", Her Majesty added.
Since its establishment in 1995, JRF has launched numerous socioeconomic projects for women, providing employment and training opportunities to enhance their livelihoods.
Over the past year, JRF has focused on the development of its Social Enterprises initiative, which strives to create sustainable economic opportunities for local community women and female Syrian refugees by capitalising on their potential as independent breadwinners for their families. This includes training in labour market skills, entrepreneurship and management, as well as handicrafts and cooking.
Under these efforts, JRF has partnered with IKEA to integrate Syrian refugees and local community women into the workforce through the creation of a series of exquisite handicraft collections reflecting Jordan's traditions and heritage.
The collaboration aims to help sustain social and economic stability across refugee-hosting communities, offering Jordanian women and Syrian refugees jobs to produce handmade carpets and embroidery items, sold exclusively by IKEA, locally and regionally.
The honourary launchon was attended by JRF's Board of Trustees and Director General Enaam Barrishi, as well as several key JRF supporters, including Ali Kolaghassi, Arab Potash Company, Sabih Al Masri, Housing Bank for Trade and Finance, Arab Bank, Hamid Najjar, Saleh Eddine Bitar and Eyad Mesbah.
JRF is a non-profit, non-governmental organisation with a focus on child protection and community empowerment. Contributing to social justice, alleviating poverty and socio-economic empowerment, especially among women and youth, JRF implements a wide range of programmes to achieve its mission of transforming Jordanian communities.
The foundation's social enterprises include Al Karma Embroidery Centre, which employs women artisans in the Jabal Al Natheef area, and the Wadi Al Rayan Project, which repurposes cattail reeds and banana leaves as raw manufacturing materials. JRF has also empowered 1,600 women in 13 different villages through the Bani Hamida Weaving Project, which revives the long-celebrated tradition of bedouin weaving.
Related Articles
Oct 10,2017
AMMAN — Her Majesty Queen Rania on Monday chaired the Jordan River Foundation (JRF) annual board meeting to discuss the foundation's recent
Oct 03,2016
AMMAN — Her Majesty Queen Rania inaugurated the Jordan River Foundation's (JRF) 21st annual handicraft exhibition, titled "Dahnoun", at the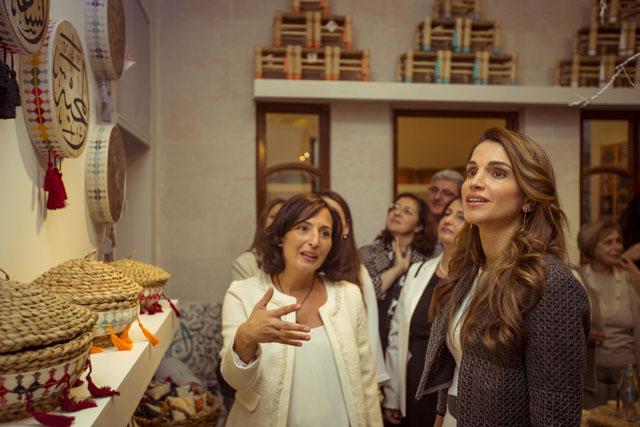 Oct 28,2014
Her Majesty Queen Rania on Tuesday visited the Jordan River Foundation's (JRF) 19th annual handicrafts exhibition titled "Musings of Traditional Jordan".
Newsletter
Get top stories and blog posts emailed to you each day.