You are here
Queen: Teachers are our partners in education reform
Her Majesty launches professional diploma for educators
By Dana Al Emam - Oct 19,2016 - Last updated at Oct 19,2016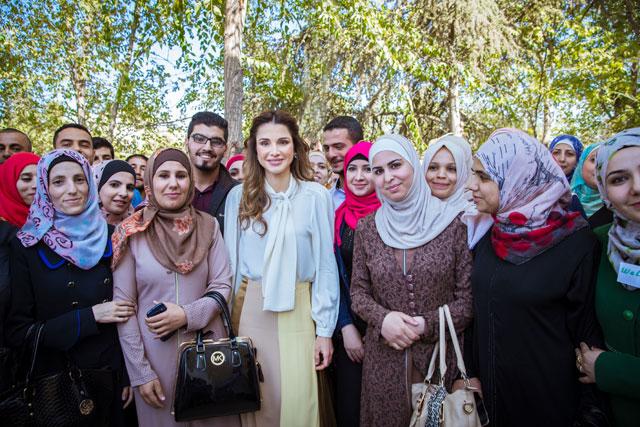 Her Majesty Queen Rania meets with educators enrolled in training for the Initial Teacher Education Diploma in Amman on Wednesday (Photo courtesy of Royal Court)
AMMAN — Her Majesty Queen Rania on Wednesday launched the first pre-service professional diploma for new teachers, offered by the Queen Rania Teacher Academy (QRTA).
The Initial Teacher Education Diploma (ITED) seeks to prepare future educators to treat classrooms as the birthplace of innovation, leadership, intellectual curiosity and civil participation among Jordanian youth.
ITED offers teacher training that "recognises merit and passion in teachers, and gives novices the opportunity to practise and refine their teaching skills before being tried in the field", according to a statement from Her Majesty's office.
The Queen met with student teachers and commended their efforts to develop their skills and capabilities in order to provide better education for students and to instil ambition in the younger generation.
She highlighted her "deep belief" in the role of teachers as educators and reformers who lead all other professions.
Her Majesty said teachers who work hard to improve their skills and seek progress are those most capable of instilling commitment and dedication in their students.
The Queen congratulated the first batch of teachers on being selected to enrol in the training programme, and vowed to work towards providing this quality training opportunity to all teachers in Jordan "so that they are equipped with the knowledge and advanced skills and techniques they need to do their noble jobs".
She explained that teacher training is one of the most significant pillars of education reform, as reflected in the recommendations of the National Committee for Human Resource Development.
Queen Rania described teachers as "our partners in the education reform process," and the "guardians of this profession", adding that it is her hope to see all the recommendations fulfilled.
"All we need is to be serious and ethical in implementing every step of every recommendation in this roadmap, and we want to do this in partnership with you so that you can reach the goals we aspire to and the goals we want our students to achieve."
A total of 200 student teachers have enrolled in the full-time diploma, which is offered in cooperation with the University of Jordan and extends over nine months, QRTA CEO Haif Bannayan told journalists at a briefing on Wednesday.
The programme consists of three modules, he explained. The first includes the principles of learning and teaching, the second is subject-specific and covers the fields of maths, science and the English language, while the third module, which accounts for around half of the load, is practical training.
The programme, which is carried out in partnership with University College London (UCL) and the Education Ministry, follows international best practices on preparing new teachers and equipping them with the necessary skills and expertise.
Bannayan noted that the diploma is a step towards "professionalising teaching", whereby teachers should obtain an official licence before practising the profession, as in other jobs.
Around 70 per cent of Jordan's 80,000 teachers did not undergo any form of professional training before they started working, an issue that the ITED addresses, he added.
The UCL trained 12 Jordanian experts, chosen from 3,000 applicants, to provide the training for student teachers for grades four to ten.
The criteria for student teachers seeking to enrol in the diploma included the Civil Service Bureau placement and a minimum score of 80 per cent in the General Secondary Education Certificate Examination (Tawjihi).
Applicants were also required to have a bachelor's degree in maths, science or English, with a minimum grade of "good", to pass Arabic and English exams and to be younger than 30.
In addition to face-to-face teaching at the QRTA and hands-on training in schools, ITED includes a virtual portal and library where student teachers are expected to carry out tasks and readings for 15 to 20 hours per week.
Participants in the programme, which is free, are hired at the ministry directly upon graduation and are given a teaching licence and a certificate after passing the necessary tests. Meanwhile, they must commit to teaching at the ministry's schools for four years.
The QRTA has partnered with UCL's Institute of Education for the purpose of graduating up to 7,000 student teachers over the upcoming five years.
Since its establishment in 2009, the QRTA has trained some 35,000 teachers.
Related Articles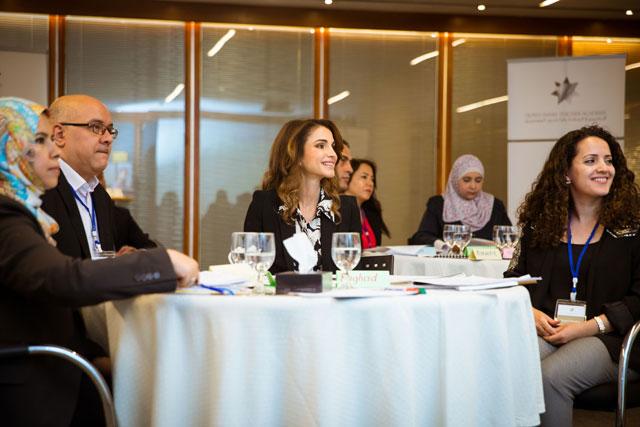 May 30,2016
AMMAN — Her Majesty Queen Rania on Sunday was briefed on preparations currently under way to launch the Queen Rania Teachers Academy's (QRTA
Dec 06,2016
AMMAN — Her Majesty Queen Rania on Tuesday joined a group of education professionals at a workshop on the deteriorating performance of Jorda
Jun 14,2017
AMMAN — Her Majesty Queen Rania on Tuesday joined trainees and senior staff of the Queen Rania Teacher Academy for an iftar hosted by
Newsletter
Get top stories and blog posts emailed to you each day.