You are here
Queen urges tireless work to 'keep children's hopes alive'
Her Majesty receives award in Berlin for her work to support children
By JT - Dec 04,2016 - Last updated at Dec 04,2016
Her Majesty Queen Rania attends A Heart for Children charity organisation's 16th Gala in Berlin on Saturday, where she accepted the Golden Heart Award in recognition of her work to support children's rights and their education (Photo courtesy of Royal Court)
AMMAN — Her Majesty Queen Rania on Saturday accepted the Golden Heart Award at A Heart for Children charity organisation's 16th Gala in Berlin, awarded in recognition of her global humanitarian work to support children's rights and their education.
In a speech, broadcast live by Germany's ZDF channel, the Queen expressed her concern for the millions of children who suffer "unseen", calling for working tirelessly to keep their hopes alive, according to a statement from Her Majesty's office.
She warned that millions of children around the world remain at risk of dying, while others are "at risk of living as if they're no longer here: isolated, wasting away, abandoned or hidden from sight".
Her Majesty said that in addition to food and shelter, many are deprived of the basic human right to education.
She referred to Syrian children who have been forced to escape barrel bombs, and Yemeni children who have become severely malnourished victims of civil war, questioning how this could be happening to them at a time of unprecedented progress and opportunity.
"This is the generation that will rebuild their communities when the wars end. The generation for whom school is a lifeline, and yet sitting in a classroom is now mortal threat."
The Queen also called for holding leaders accountable to prevent the abuse and exploitation of children and protect them from recruitment by extremists.
Her Majesty recalled her positive experience visiting refugee families around the world, where they told her about their hopes and future plans, even in the most hopeless of places and situations.
"The words I heard, over and over, were not words of despair. I heard about plans and dreams — to study, to play, to become doctors, teachers or humanitarians."
Her Majesty also urged humanitarians to continue their active efforts to support children. "Let us say to children everywhere: we see you. And tomorrow, and all the tomorrows that follow, let us work tirelessly to open our hearts and keep their hope alive."
First Lady of Germany Daniela Schadt presented Queen Rania with the Golden Heart award for her ongoing commitment towards helping children, as well as her efforts as an influential voice speaking for those in need, especially in the context of the Syrian refugee crisis, the statement said.
Previous recipients of the Golden Heart Award include Queen Silvia of Sweden, Crown Princess Mette-Marit of Norway, Princess Charlene of Monaco, Prince Harry of Wales, Salma Hayek, George Clooney, Jane Fonda and Sharon Stone.
A Heart for Children charity organisation was founded in 1978 to support children and families in need in Germany, Europe, and the rest of the world, and has since raised 153 million euros in donations and supported 3,250 projects worldwide, according to the statement.
Related Articles
Aug 31,2017
AMMAN (JT) — Thursday the 31st of August marks the birthday of Her Majesty Queen Rania, capping off another year of tireless dedication to e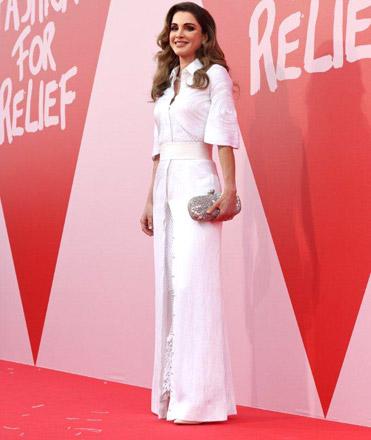 May 21,2017
AMMAN — Her Majesty Queen Rania on Sunday received an award at the 2017 Fashion for Relief charity gala in France, in recognition of her hum
Sep 27,2015
AMMAN – Her Majesty Queen Rania on Thursday was presented an award by Queen Silvia of Sweden for her work in advocating children's rights in
Newsletter
Get top stories and blog posts emailed to you each day.