You are here
Queen visits community development projects in Al Ardah
By JT - Oct 30,2017 - Last updated at Oct 30,2017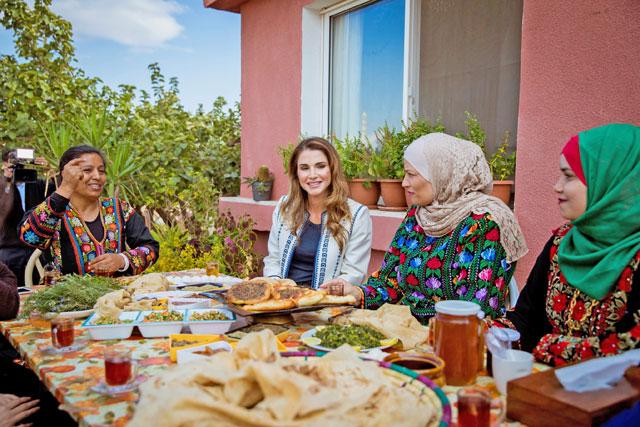 Her Majesty Queen Rania visits the village of Al Bayoudha in Balqa Governorate, on Monday (Photos courtesy of Royal Court)
AMMAN — Her Majesty Queen Rania on Monday visited the village of Al Bayoudha in Balqa Governorate, where she met with families, village elders and community leaders to discuss the village's community development projects, a statement from Her Majesty's Office said.
The Queen began her visit at the Abdulrahman Bin Awf Charitable Society, where she met with representatives of communities across Al Ardah municipality. Established in 1990, the charitable society has contributed to the launch of several income-generating projects through its financing of sustainable agriculture and provision of training courses.
After conveying His Majesty King Abdullah's regards, she commended the people of Al Bayoudha for capitalising on the area's natural resources in order to create a sustainable local economy.
"His Majesty consistently calls for each area to make the most of its distinguishing features by developing and building upon them. This step lies at the core of decentralisation and sustainable local development," Her Majesty said. In turn, residents briefed the Queen on the environmental and economic importance of the area.
Queen Rania then met with director of Al Balqa' Institute for Innovation, Ilham Al Abbadi, as well as a number of the institute's female beneficiaries. The village women showed her some of their products, including olive oil, thyme, soap and embroidery pieces.
Established in 2013, Al Balqa' Institute for Innovation has implemented several social development projects in the area, with a focus on natural agriculture, handicrafts, food production and social responsibility.
In collaboration with the Arab Group for the Protection of Nature and the Al Bayoudha Society, the institute has contributed to the planting of 6,200 trees of 25 different varieties at homes across Al Bayoudha, with 10 trees awarded to each family. Striving to enhance the quality of village agricultural products and market them to other regions, the institute also hosts seasonal volunteers to help farmers harvest wheat, olives and animal feed.
Among Al Balqa' Institute for Innovation's many initiatives are a children's innovation club, Al Bayoudha Volunteer Network, and the promotion and support of the biodiversity-focused "Declaration of Al Bayoudha", under which the local community strives to transform the area into a model environmental and social economy.
Related Articles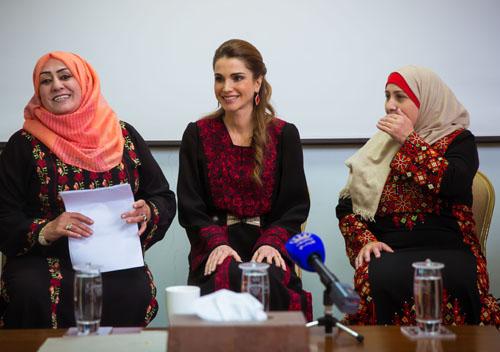 Dec 02,2015
AMMAN — Her Majesty Queen Rania on Wednesday visited the Basmet Al Khair Charitable Society for Women in Balqa Governorate and checked on th
May 05,2015
Her Majesty Queen Rania on Tuesday received the Robo IBDAA team at her offices and congratulated them on their achievements in the 2015 FIRST LEGO League (FLL). 
Jan 14,2015
Her Majesty Queen Noor on Wednesday inaugurated a business incubator project at the urban village project affiliated with the Greater Ajloun Municipality.
Newsletter
Get top stories and blog posts emailed to you each day.