You are here
Queen visits Orient Gallery's 'Journey of 20 Years' art exhibition
Work by 12 Jordanian, seven Arab artists on display until December 29
By JT - Dec 05,2016 - Last updated at Dec 05,2016
Her Majesty Queen Rania tours 'The Journey of 20 Years' exhibition at Orient Gallery in Amman on Monday (Photo courtesy of Royal Court)
AMMAN () — Her Majesty Queen Rania on Monday visited an art exhibition showcasing the works of Jordanian and Arab artists at the Orient Gallery in Amman.
Held under Her Majesty's patronage, the exhibition, titled "The Journey of 20 Years", celebrates the gallery's 20th anniversary and accomplishments over the past two decades, according to a statement from the Queen's office.
The exhibition features selected paintings by some of the region's most prolific artists, showcasing works by 12 Jordanian artists and seven Arab artists, many of whom have been involved with Orient Gallery since its founding, the statement said.
The Queen was welcomed by Orient Gallery Managing Director Hala Jardaneh, who gave her a tour of the art on display.
Since its founding, the gallery has been dedicated to the promotion of emerging and established Arab artists, while actively encouraging young Jordanians with the potential to contribute to the local art scene.
The gallery showcases work from across the region, representing artists from Lebanon, Syria, Iraq, Kuwait, Palestine, Qatar and Bahrain.
The participating Jordanian artists in "The Journey of 20 years" exhibition are: Ali Amr, Bader Mahasneh, Hilda Hiary, Ayman Gharaibeh, Zeina Al Salti, Jehad Al Ameri, Mohammad Al Ameri, Mohammad Nasrallah, Maha Khoury, Ghassan Abu Laban, Sanaa Kayyali and Jazla Al Husseini.
The featured Arab artists are the late Yassin Mohammadawi, Jamal Abdul Rahim, Khalid Al Khani, Bahram Hajou, Georges Bassil, Suheil Baddour and Reem Yassouf.
The exhibition continues through December 29.
Related Articles
Feb 06,2019
AMMAN — From the visual aesthetics of Arab poetry to the history of Al Andalusia, Orient Gallery opened its doors to welcome its visitors to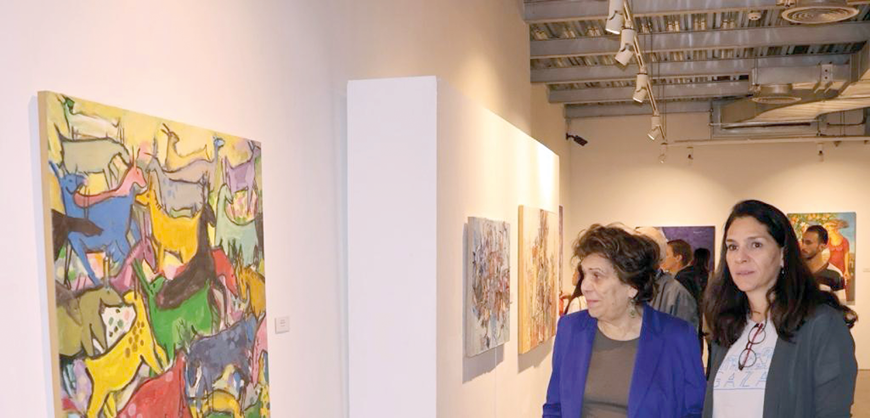 Nov 11,2023
AMMAN — In solidarity with the people of Gaza and Palestine the Jordan National Gallery of Fine Arts organised an event on November 5, that
Jan 21,2019
AMMAN — Under the patronage of HRH Prince Raad, an exhibition recently launched to showcase the Jordan Trail through the photography and pai