You are here
In race against time, Indian spiritual leader Sadhguru's motorbike journey to 'save soil' arrives in Jordan
By Rajive Cherian - May 05,2022 - Last updated at May 05,2022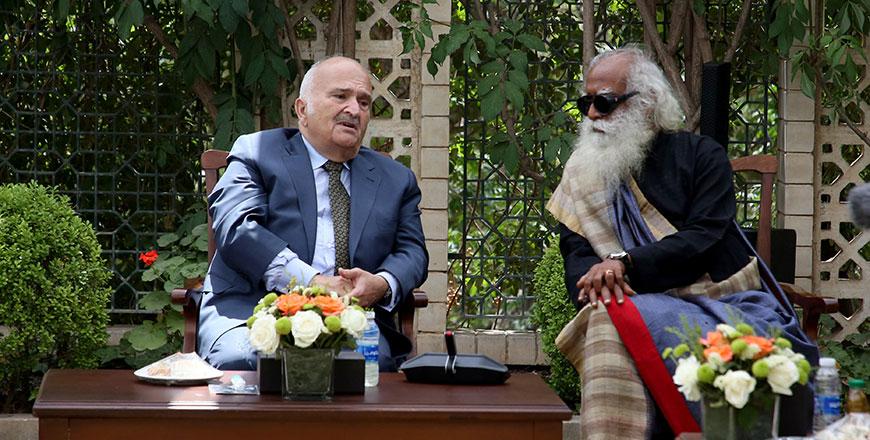 HRH Prince Hassan with Indian spiritual leader Sadhguru on Wednesday (Petra photo)
AMMAN — Advocating for "saving soil as a generational responsibility", Indian spiritual leader Sadhguru in Amman on Wednesday underscored the need for countries to "act now" to stop land degradation, on day 45 of his 100-day motorbike journey from London to India, covering 30,000km through dozens of countries to raise awareness of this pressing environmental issue.
Sadhguru set off on his motorbike journey on March 21 as part of his Save Soil movement to bring together people from around the world and support leaders of all nations to institute national policies towards increasing the organic content in cultivable soil, according to the website of the Isha Foundation, founded by the spiritual leader.
Also on Wednesday, HRH Prince Hassan, chairman of the board of trustees of the Royal Scientific Society, met Sadhguru, the Jordan News Agency, Petra, reported.
The prince, during the meeting, emphasised the importance of soil as a heritage that should be shared with future generations, stressing the necessity of developing an international law of peace.
Prince Hassan also stressed the need to draw up policies capable of finding environmental and humanitarian solutions to address the challenges and raise awareness.
Sadhguru highlighted the need to raise awareness of soil as a source of life, not just a resource, noting that land and soil restoration could resolve major environmental challenges, including climate change, biodiversity loss and ecosystem destruction.
Addressing a packed crowd in Amman, Sadhguru said that around 52 per cent of agricultural soils are degraded, stressing the need to increase the organic content in soil to at least 3 per cent, which he said is seen as the minimum "to keep soil alive or call soil a soil".
"Not a single nation has the 3 per cent average. We must in this generation aim to create an average of 3 per cent of organic content in soil," he said, stressing that if there is no action on the ground, "we will only have conferences and conferences".
Touching on the water crisis, Sadhguru said that by 2032 it is expected that 3.5 billion people on the planet could experience water stress, and coupled with degradation of soil, this will trigger mass migrations.
The amount of suffering people go through during forced migration will not be reported, especially for women and children, he said.
"The worst suffering during migration happens to women, and the worst exploitation happens to women," Sadhguru said.
"So it's a crucial moment in our lives… and a crucial moment in the history of humanity… where if we act now, in the next 10 to 15 years' time we can turn this situation around significantly," he noted.
Warning against inaction, he cited the United Nations Population Fund (UNFPA) that the average loss of biodiversity is 27,000 species per year.
"Famines are not far away. Last year, the World Food Programme distributed food worth $9 billion. This year they want $15 billion… Do you think you can solve world's problems going on distributing food like this all over the world, do you think it's a possibility? Unless food grows where people are, there is no real solution. If that has to happen, the soil has to be rich, there is no other way," Sadhguru said.
According to the Isha Foundation, the campaign seeks to spread this message to 3.5 billion people, 60 per cent of the world's electorate.
Urging his audience to be a "voice for soil", Sadhguru said that he will address the UN Biodiversity Conference (COP15), which representatives of 197 nations will be attending.
"If you get me over 3 billion or 3.5 billion people talking about soil, in many ways this is a done thing, and we can push it with the governments. There are many further steps, but at least we can change the narrative," he told the audience.
Speaking during the event, Director of the Faith for Earth Initiative in the UN Environment Programme (UNEP) Iyad Abumoghli said that the Save Soil movement "comes at a critical moment" as soil erosion and degradation are two pressing issues.
"The deterioration of soils, the subsequent loss of terrestrial soil water storage and the reduction of water retention in the landscape are disrupting the movement of water in and through the atmosphere. This disruption causes major shifts in precipitation that could lead to less rainfall and more droughts in many areas of the world, increases in regional temperatures and an exacerbation of climate change," he said, quoting a UNEP report.
"Here in Jordan, we know exactly what water stress means to people, to agriculture, to industry and to nature, as Jordan is the second most water scarce country in the world, according to a UNICEF report," Abumoghli added.
The Save Soil campaign makes "a direct and indirect contribution to global efforts", he noted.
In his remarks, Director General of the National Agriculture Research Centre (NARC) Nizar Haddad said that Jordan is "facing a clear deterioration of soil" for a number of reasons, among which he highlighted the Kingdom's water crisis and its "opening of its hands and hearts to all those who do not have a safe home."
"The philosophy of this country was built on the idea that the human being is the first and most important treasure we own as a country," Haddad added.
Hailing Sadhguru's visit as an opportunity to shed light on the soil crisis, Haddad noted that "soul and soil are very close to each other".
Also speaking during the event, India's Ambassador to Jordan Anwar Haleem reiterated the "brotherly relations" between the Kingdom and India, noting that "the vision of Sadhguru is a very harmonious representation" of the commonalities between the countries.
The envoy recalled the warm welcome Sadhguru received when he arrived in Aqaba on the first day of Eid on Monday and how he has "captivated the hearts and minds of people" in Jordan since then, which is "a testimony to Sadhguru's influence and focus on the subject, which is of utmost significance to all of us".
Newsletter
Get top stories and blog posts emailed to you each day.