You are here
Ramadan a time for family, togetherness for some
By Cordu N'Diaye - Jul 20,2014 - Last updated at Jul 20,2014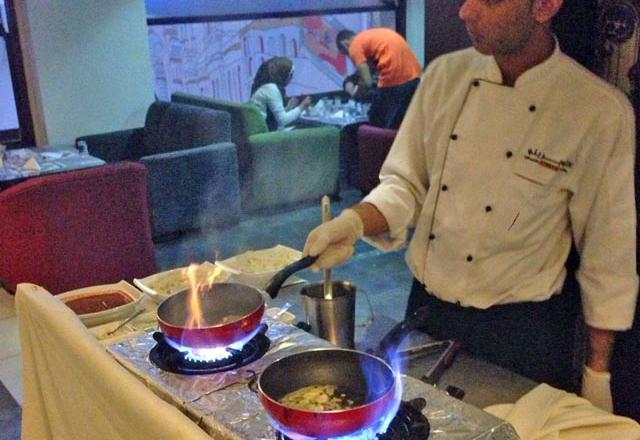 AMMAN — Ramadan, a month of piety marked primarily by the practice of fasting from sunrise to sunset, is also a time in Jordan when the culture of cuisine is at its most opulent.
Sohour — the morning meal before the fast — and iftar — the evening meal that breaks the fast — play a huge role in the celebration of Ramadan, not least among the various cultures and nationalities present in the Kingdom.
Mohammad Souriki, a taxi driver in Amman, remembers maqloubeh dinners in the family home.
"I will generally eat anything," he said. "But I really like maqloubeh [fried eggplant, rice and chicken]. Last year my father passed away but I remember how he used to bring us together every Ramadan for iftar."
"I still try to make it home to break my fast with the family," he said.
For most, iftar starts with an appetiser of dates and a cup of water before the main meal.
Chef Khaled Sehwail who works at a restaurant on University Street said dates form the main part of the staff's fast-breaking tradition.
"We eat after we serve everybody, about 30 minutes after the maghreb prayer call," he explained.
"So we have dates first and serve the customers. Then we eat the main meal."
"I cook iftar because I am at work but my wife cooks the Sohour meal," Sehwail said, grinning.
Marwan Al Salahat, the restaurant's manager, agreed. "We cook for people, but we also have people who cook for us!" he told The Jordan Times.
Food preparation plays a large part in Ramadan mealtimes, as American-Somali student Suad Patton-Bey attests.
"Ramadan in my house... it's a culture in my mum's country," she said, smiling wistfully.
In addition to making lentil soup and subayat, Patton-Bey spoke of making sambousa pastries with her mother.
"It's really good," she said. "We usually make it with ground beef and spices. It's kind of like a thing; we make it together and we talk while we're making it. She will do the cutting and I will do the stuffing. It's something I really miss being here in Jordan."
For Chef Khaled and Al Salahat, cooking at the restaurant allows them to join their family for the iftar meal.
"We can't go home," said Salahat "but we invite our families here."
When asked if any particular iftar meal of memory is special to them, they responded in near unison "any one we get to spend at home with our families would be nice!"
The togetherness that the fasting month inspires has caught the attention and admiration of Armenian expatriate Tatesik Dallakyan, who is in the Middle East for the first time.
"It is very beautiful, it is really very beautiful! The family gathers together, they talk and enjoy their time after a difficult day," she said.
"I think some people empty their stomachs for filling their souls," Dallakyan continued, adding "It is one thing to read about this culture in books and another thing to see it."
Sales assistant, Odai Ghaleb Al Jamal echoed Dallakyan's impressions, saying "there is beauty in fasting and in Ramadan. Everyone should do it."
For Muslims and non-Muslims alike, Ramadan is less about the meal at hand and more about the culture of community, expressed by the coming together over food.
"Ramadan means everything. It is not an individual practice. All the people live through it in this country and we do it with our friends and family… Ramadan is the most perfect time of the year," said Ammar Al Zoubi, a sports and fitness major from Salt.
Related Articles
Jun 16,2016
AMMAN — The Public Security Department (PSD), represented by the rehabilitation and correctional centres administration, the Central Traffic
Jun 10,2016
AMMAN — Delivering a message of peace, forgiveness and conviviality, the Restaurant of Mercy is offering free iftar meals to underprivileged
May 25,2017
Once again the most joyful and spiritual time of the year for Muslims has arrived.An entire month of celebrations, festivities, delicious fo
Newsletter
Get top stories and blog posts emailed to you each day.