You are here
Razzaz reaffirms citizens' right to free expression, commends national solidarity initiatives
PM, interior minister meet with officials, senior officers on enhancing rule of law
By JT - May 22,2019 - Last updated at May 22,2019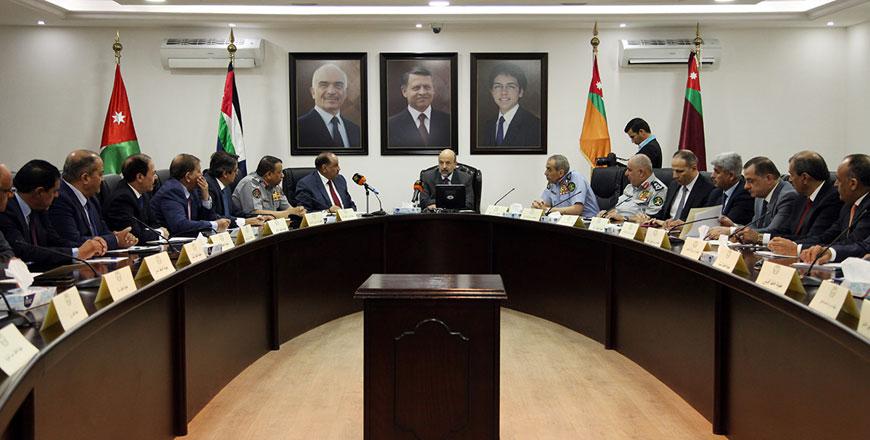 Prime Minister Omar Razzaz on Wednesday says the government is committed to guaranteeing citizens' rights to free expression under the umbrella of the Constitution and law (Petra photo)
AMMAN — The government is committed to guaranteeing citizens' rights to free expression under the umbrella of the Constitution and law, Prime Minister Omar Razzaz said on Wednesday.
The premier's remarks came during a meeting with the directors of the public security, gendarmerie and civil defence departments and governors, over the state of law enforcement in Jordan.
In the presence of Interior Minister Salameh Hammad, Razzaz reviewed with the officials, the government's vision and implementation priorities, the Jordan News Agency, Petra, reported.
The prime minister stressed the importance of the rule of the law in serving the country's development process, referring the problems and challenges facing Jordanian society, mainly drugs, weapons and smuggling.
Razzaz noted that attacking public employees, doctors and nurses was never accepted among Jordanians. "It goes against the morals and values of society."
He commended the preparations and procedures put in place by the interior ministry to protect public servants.
Razzaz also praised the efforts of the governors and their role in boosting security and economic activity, especially in Ramadan, through initiatives seeking to enhance the values of solidarity and mutuality in the society.
Hammad said that the work of the administrative governor requires open and continuous communication with citizens in their areas.
The minister also highlighted the importance of unifying efforts and increasing the level of coordination and cooperation among all security apparatuses, governors and other stakeholders, in order to enhance security and stability and combat all forms of crime.
Newsletter
Get top stories and blog posts emailed to you each day.