You are here
Refugees from Syria gain life skills, unleash their creativity at summer camp
By Muath Freij - Jul 02,2014 - Last updated at Jul 02,2014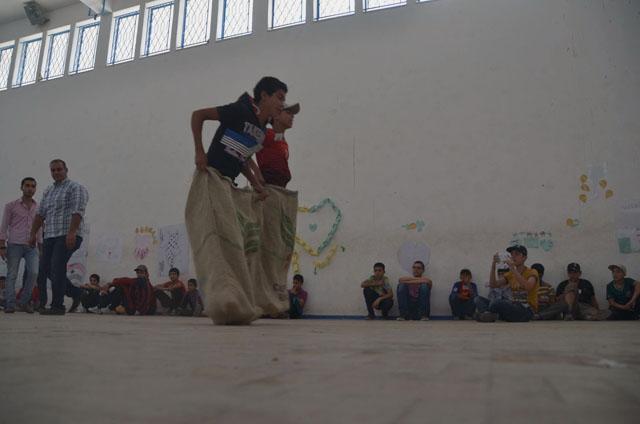 AMMAN –– Seventeen-year-old Khaled, a Syrian from Daraa, had the chance to forget the scenes of violence and bloodshed that his family witnessed back home when he took part in a recent summer camp organised by UNRWA.
Khaled said he liked the activities offered at the camp because there is a lack of entertainment opportunities where he currently lives in Zarqa, some 22km east of Amman.
"I also learned from these activities how to be a leader in society," he told The Jordan Times.
Khaled is one of 214 students who benefited from the five-day camp held for children who had been affected by the Syrian conflict. The camp concluded late last month.
The Summer Camp for Palestine refugees of Syria is an initiative held by UNRWA and supported by the EU's Instrument contributing to Stability and Peace (IcSP), according to the UN agency.
Coordinated by
UNRWA school counsellors and psychosocial supporters from all areas, the camp focused on providing psychosocial support to students who came from Syria — Palestinian and Syrian refugees, promoting coexistence and cultural integration of Palestinian refugees with their peers, and mitigating the consequences of their post-traumatic stress disorder.
The camp included "an extensive variety of indoor and outdoor activities such as handicraft workshops, active listening games, telematches and flying balloons for peace", UNRWA said.
The participants, who came from Irbid, Zarqa and Amman, "learned about basic life skills [and] enhanced their self-expression through art and creativity".
The camp was held at the UNRWA Education Development Centre and the UNRWA Amman Training Centre.
Rahaf Jamil, a Palestinian who moved from Syria to reside in Zarqa, said she learned how to be an active member of society during her participation in the camp.
"I also had the chance to meet new friends," the 13-year-old added.
Related Articles
Nov 23,2017
AMMAN — French Ambassador to Jordan David Bertolotti and Aref Al Kali, vice dhair of the Syrian American Medical Society (SAMS) Board of Dir
Nov 17,2015
AZRAQ REFUGEE CAMP – Ghaliah Ghaffari had no clue about football, the world's most popular game, before the outbreak of civil war in her hom
May 25,2014
The Azraq Refugee Camp, which was officially opened in the beginning of this month, is currently home to more than 6,000 Syrian refugees, according to Andrew Harper, UNHCR representative to Jordan.
Newsletter
Get top stories and blog posts emailed to you each day.