You are here
Regent meets with governors on progress in decentralisation scheme
Prince Feisal calls for solid strategies to realise development in governorates
By JT - Dec 31,2017 - Last updated at Dec 31,2017
HRH Prince Feisal, the Regent, meets with top Interior Ministry officials in Amman on Sunday (Photo courtesy of Royal Court)
AMMAN — HRH Prince Feisal, the Regent, on Sunday stressed the importance of enhancing development in the governorates through strategies that set the development and services priorities and following up on their implementation.
Accompanied by Prime Minister Hani Mullki in a visit to the Interior Ministry and meeting with a number of governors, the Regent said that investments must be directed to the governorates, given that the economy is the top challenge that faces the Kingdom.
Prince Feisal noted the decentralisation scheme that has started nationwide constitutes a milestone in the comprehensive reform process in Jordan, under the leadership of His Majesty King Abdullah, noting that the plan is meant to enhance participation in the development-related decision making that seeks to address each governorate's needs and accelerate project implementation.
He underscored the need to continue improving the institutional capabilities of the concerned bodies to reflect the outcomes of the decentralisation process on the ground through improving services and ensuring just distribution of development gains.
The Regent highlighted the role of the governorates' security councils in preserving the state's authority and the rule of law.
For his part, Mulki outlined measures taken to realise the goals of the decentralisation system and enhance development at a time when the Kingdom has increasingly proved to be a stable and secure place.
He noted that the government is working on decentralisation in line with His Majesty's vision as a reform leap aimed at increasing people's participation in making decisions that have to do with their lives.
Interior Minister Ghaleb Zu'bi highlighted the role of governors as partners of governorate councils in communicating with citizens and taking part in realising comprehensive development.
He stressed that his ministry works with the armed forces and the security bodies to ensure security and enhance the rule of law.
During the meeting, a number of governors briefed Prince Feisal on the various decentralisation-related measures to be implemented to improve public services and boost development.
Related Articles
Jun 09,2016
AMMAN — Jordan celebrates the 17th anniversary of His Majesty King Abdullah's coronation on Thursday.Since his coronation on June 9, 1999, t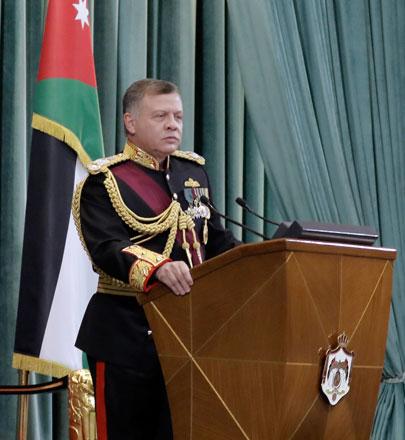 Nov 12,2017
AMMAN — His Majesty King Abdullah on Sunday opened the Parliament's second ordinary session, where he delivered the Speech from the Throne.I
May 22,2018
AMMAN — The ministries of interior and planning and international cooperation have concluded a series of field visits to all governorates to
Newsletter
Get top stories and blog posts emailed to you each day.