You are here
'Restaurant of Mercy' soup kitchen opens in Jabal Luweibdeh
By Suzanna Goussous - Dec 24,2015 - Last updated at Dec 24,2015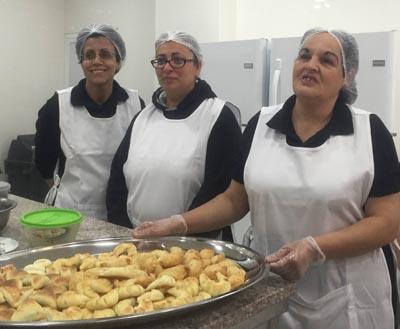 Volunteers prepare food at the 'Restaurant of Mercy' soup kitchen in Jabal Luweibdeh on Wednesday (Photo by Suzanna Goussous)
AMMAN — Caritas Jordan and the Latin Archdiocese opened on Wednesday the "Restaurant of Mercy", a soup kitchen located in Amman's Jabal Luweibdeh neighbourhood.
The charity offers daily lunch meals for free to people in need.
On the occasion of Prophet Mohammad's birthday and Christmas, the soup kitchen opened to serve food to underprivileged residents of all nationalities and religions, volunteers said.
"Today, mercy and love collide — Islam and Christianity — to offer people happiness, peace, and hope that among the fires around us in the Middle East, our country is a model, a success story, an everlasting spring," Caritas Jordan Director General Wael Suleiman told The Jordan Times.
"Anyone can enter the restaurant and take a meal and for those who can't make it to the venue we have cars to deliver meals to their houses," Suleiman added.
Around 300 to 500 meals, upon request, will be offered and delivered to the underprivileged in the capital seven days a week. The soup kitchen will be open for everyone during lunch time, according to organisers.
Amman Mayor Aqel Biltaji said the soup kitchen is located in one of the capital's oldest areas, where diversity played a huge role in the development of modern Amman.
"Jabal Luweibdeh — where Terra Sancta College was next to the Sharia College and the King Abdullah I Mosque neighbours the Orthodox and Coptic churches," he said. "Here… the Circassian lives next to the Armenian, the Jordanian, the Syrian and the Palestinian."
"This restaurant promotes coexistence, love, peace and mercy from the heart of Jordan," Biltaji added.
"[It] is a message… Jordanians do not need to start initiatives to deliver messages about coexistence, but the coincidence of both celebrations [Christmas and Prophet Mohammad's birthday] happening together made Caritas open the restaurant to encourage these values in our society," he told The Jordan Times.
Father Rifat Bader, the director of the Catholic Centre for Studies and Media, said the project is a sign of national unity and peace.
"This year is a year of national unity, especially since we are celebrating both Prophet Mohammad's birthday and Christmas, it is also the year of mercy," Bader told The Jordan Times.
"National unity requires actions and not slogans," he added.
Latin Patriarch of the Holy Land and Jordan Fouad Twal said the launch of the "Restaurant of Mercy" comes in "the Year of Mercy" announced by Pope Francis.
The soup kitchen is located near Paris Circle, where the Catholic printing house used to be.
Related Articles
Dec 12,2015
AMMAN — As the holiday season approaches, Caritas Jordan and the Latin Archdiocese are collaborating to open a soup kitchen within the next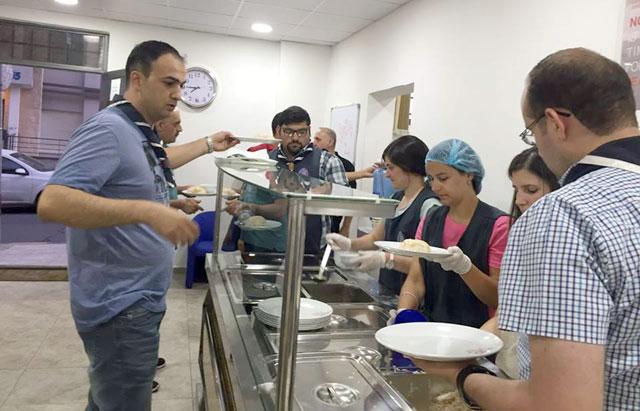 Jun 10,2016
AMMAN — Delivering a message of peace, forgiveness and conviviality, the Restaurant of Mercy is offering free iftar meals to underprivileged
Jun 15,2016
AMMAN — Her Majesty Queen Rania on Tuesday visited programmes run by Caritas Jordan in Jabal Luweibdeh, including its community centre and t