You are here
RJ looks to restructure capital
By Omar Obeidat - Apr 16,2015 - Last updated at Apr 16,2015
AMMAN — The senior management of Royal Jordanian (RJ), the Kingdom's national carrier, will propose restructuring the company's capital at a meeting with shareholders early next month.
In a disclosure to the Jordan Securities Commission, posted on the website of the Amman Stock Exchange on Thursday, RJ Chairman Suleiman Hafez invited shareholders to an ordinary session on May 2 to discuss the airline's financial plans.
The session will be followed immediately by an extraordinary meeting of the general assembly.
The disclosure said discussions at the ordinary session will focus on the 2014 financial year and the action plan for 2015 to be approved by shareholders, as well as RJ's budget, profits and losses in 2014, in addition to selecting an auditing company for 2015.
But in the extraordinary session, the general assembly will listen to a proposal to reduce RJ's capital by JD37.9 million, from JD84.3 million to JD46.4 million.
The move to lower the capital, the disclosure signed by Hafez said, aims at writing off part of the financial losses incurred in 2014.
However, the general assembly will also be briefed on plans to re-increase the company's capital by JD200 million to stand at JD246.4 million, the disclosure said, adding that part of the new capital will be allocated to the government or major shareholders who own over 10 per cent of the shares.
The government is the major shareholder with 26 per cent of the airline's shares, followed by the Mint Trading Middle East Limited (19 per cent), the Social Security Corporation (10 per cent) and the Jordan Armed Forces-Arab Army (3 per cent), while the remaining shares are owned by other Jordanian and non-Jordanian companies and individuals.
According to RJ figures, 70 per cent of the shares are owned by Jordanians.
Legally, the shares owned by Jordanians in RJ should be no less than 51 per cent for the company to be able to enjoy the traffic rights arrived at after signing deals with other countries.
Related Articles
Aug 13,2015
AMMAN – The International Monetary Fund (IMF) has advised authorities to seek new shareholders in addressing financial difficulties facing R
Aug 06,2015
AMMAN — The Securities Depository Centre (SDC) has reduced the capital of Royal Jordanian Airlines by 37,968,008 shares, represnting 45 per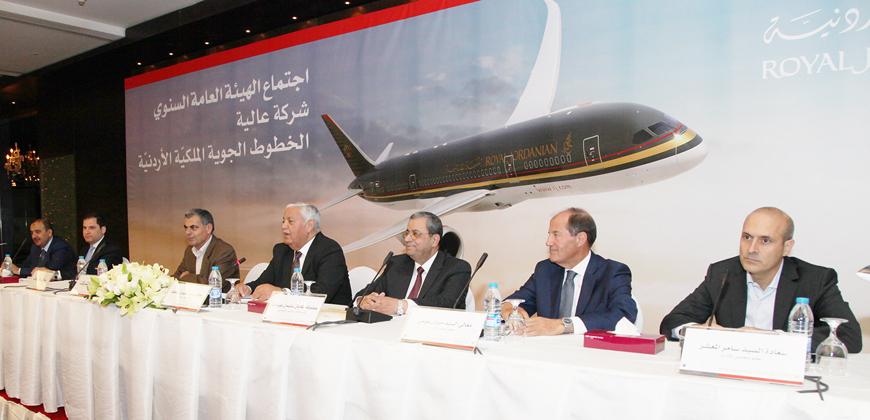 Apr 14,2016
AMMAN — Royal Jordanian (RJ) Chairman Suleiman Al Hafez told shareholders on Thursday that 2015 marked the beginning of the process of
Newsletter
Get top stories and blog posts emailed to you each day.