You are here
Role of local communities vital for sustaining cultural heritage — experts
By Saeb Rawashdeh - Mar 23,2017 - Last updated at Mar 23,2017
AMMAN — To preserve Jordan's vast archaeological heritage, a sustainable preservation model focusing on vocational training in cultural resource management is essential, according to two Jordanian experts.
"Jordan possesses a vast number of archaeological sites that serve as important cultural heritage resources [CHRs] for the country," said Chief of Party Nizar Al Adarbeh, who joined USAID Sustainable Cultural Heritage Through Engagement of Local Communities Project (SCHEP) in 2015.
During a presentation titled "Community Based Archaeology: Challenges and Opportunities", held last week at the American Centre of Oriental Research (ACOR), Adarbeh along with Jehad Haron talked about the role of local communities in protecting and conserving a vast number of heritage sites in Jordan.
Many sites are located in underdeveloped areas, far from the capital, noted Adarbeh, adding that these sites cannot "live up to their potential as tourist destinations because their host communities often lack the capacity and resources to capitalise on these sites' potential for tourism".
By using a sustainable preservation model, substantial tourism activity would properly develop, Adarbeh said.
This model consists of site development projects that engage communities in preserving, managing and promoting sites in a manner that ensures their viability as long-term resources, he highlighted.
Adarbeh particularly emphasised the cooperation with the Department of Antiquities (DoA), where SCHEP builds skill sets, knowledge and tools in line with the best practices in site preservation, presentation, sustainable promotion and management.
"Working with stakeholders that include archaeologists, tour guides, Jordanian university faculties, government officials and the host communities of CHRs, SCHEP works to build and strengthen a collaborative community of practice that convenes regularly to merge tourism promotion and cultural heritage preservation," he noted.
Simultaneously, SCHEP works with key tourism promotion stakeholders to increase the visibility of specific sites, with the ultimate goal of increasing tourists' visits and bringing about economic benefits to the communities surrounding the sites, Adarbeh added.
There are currently nine SCHEP sites including Ghor Safi (Karak), Busayra (Tafileh), Umm Al Jimal (Mafraq), Bir Madhkur (Wadi Araba), the Temple of the Winged Lions (Petra), Bayt Ra's (Irbid), rock art sites (Wadi Rum), Ayla (Aqaba) and Madaba, stated Haron.
Engaging community members in CHR promotion and management enabled around 136 individuals, including local youth, to receive hands-on training in CHR best practice across the nine SCHEP sites, Haron said.
"So far, SCHEP sites have generated 78 employment opportunities in rural areas. By 2018, SCHEP expects to create 650 community-based job opportunities around CHR sites, with a focus on youth (75 per cent) and female (47 per cent) employment," he outlined.
In addition, the creation of the Jordan Heritage Consortium (JHC) aimed at facilitating communication and collaboration among Jordan's cultural heritage professionals brought together representatives from the government, universities and foreign institutes to discuss key challenges and areas of cooperation, Adarbeh highlighted, adding that the JHC will officially be launched in 2017.
The completing of comprehensive assessments to support CHR capacity building and training for the staff of the DoA, as well as the faculty members and students of Jordan's five public universities is one of SCHEP's goals, he emphasised.
According to Haron, who joined the SCHEP team last year after working at DoA for years, "SCHEP supported the establishment of Sela for Vocational Training and Protection of Cultural Heritage, as the first community-based non-profit organisation of its kind", which focuses exclusively on local training in cultural resource management.
SCHEP also organised a cultural heritage curriculum for 450 students across Jordan, in cooperation with Her Majesty Queen Rania's Madrasati Initiative and the DoA, Adarbeh said.
"The students, who were 30 per cent female, ranged from 4th to 6th grade in nine schools in Ghor Safi, Karak, Amman and Irbid."
The project awarded 15 scholarships to high-achieving students in Jordanian universities, and eight SCHEP site stewards, who attended the prestigious 13th International Conference on the History and Archaeology of Jordan last May, Adarbeh noted, underlining that the students, who are majoring in archaeology, tourism-management and related fields, were able to network and learn from leading professionals in their respective fields.
SCHEP is a four-year project funded by the USAID and implemented by ACOR, aiming to create strong Jordanian heritage community of practice by building skills for best methodology in site preservation, conservation and tourism promotion through workshops and courses, Adarbeh pointed out.
"Its model emphasises the local communities as local stakeholders in the project, with respect to both preservation and management with employment, and economic gains".
Related Articles
Aug 26,2017
AMMAN — The Friends of Archaeology and Heritage (FoAH) and the Sustainable Cultural Heritage through Engagement of Local Communities Project
Apr 04,2018
AMMAN — Studies and excavations on Irbid Governorate's Bait Ras tomb revealed that the archaeological site is "unique on a regional level",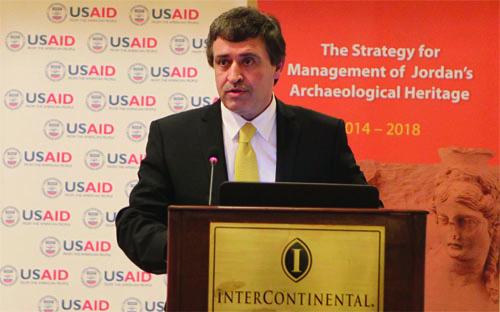 Dec 04,2014
The 2014-2018 Strategy for Management of Jordan's Archaeological Heritage was launched on Thursday in a bid to further capitalise on the Kingdom's archaeological legacy.
Newsletter
Get top stories and blog posts emailed to you each day.