You are here
Romanians in Jordan continue to honour tradition of 'Martisor'
By Dana Al Emam - Mar 01,2016 - Last updated at Mar 01,2016
Romanians residing in Jordan celebrate Martisor at their embassy in Amman, on Tuesday (Photos courtesy of Romanian embassy)
AMMAN — At this time of the year, Romanian women residing in Jordan look back on their childhood, when they would wait for the first day of March all winter long to observe the "Martisor" tradition.
Martisor is a diminutive of "Martie", the Romanian word for March, to celebrate rebirth and regeneration, embodied in an amulet offered to loved ones (also called a Martisor) that symbolises purity, innocence and love towards women, as well as the optimism of springtime.
Celebrated on the first day of March, the tradition is that men generally give women a decorated string in white and red as a hope that they will always be strong and healthy for the year to come.
"I used to be very happy as a little school girl when my male classmates gifted me Martisoare [the plural of Martisor]," said Jenita Lebade, adding that each girl would claim hers are the most beautiful.
Roxana Shadeh agreed, adding that she used to pin more than one Martisor on her clothes and wear them as bracelets too.
Now living in Jordan, the women continue to honour this occasion to this day, passing it on to their children.
To keep the tradition alive, Nela Marcela Najdawi, who has been living in Jordan over the past 30 years, said she takes part in competitions for handmade Martisoare.
Although Martisoare are available in the market at affordable prices, making them by hand is important for Romanian women, as it brings them together.
Because spring is closely connected to flowers, Najdawi said she prefers to design Martisoare with flowers and snowflakes.
Rodica Slovineanla said she passes the tradition on to her children and tells her Jordanian neighbours about it.
Cernaianu Lenardo, the Romanian embassy's deputy head of mission, said over time, people started attaching silver and gold coins to the Martisor that they would later use to buy sweet white cheese and red wine.
"People believed that their faces would remain beautiful and white as cheese and rubicund as the red wine for an entire year," Lenardo told The Jordan Times.
He noted that men enjoy giving Martisor to women — to wives, friends or co-workers.
Some men tie Martisoare to flowers or jewellery and gift them to women.
"It is a nice gesture that shows appreciation for women who symbolise life," Lenardo said, adding that March in Romania usually comes after a very harsh winter.
Related Articles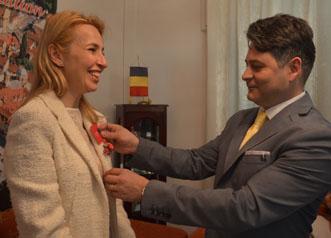 Mar 01,2015
Romanian women residing in the Kingdom took advantage of Sunday's celebration of the ancient tradition of "Martisor", which marks the advent of spring, to catch up with acquaintances and make new friends.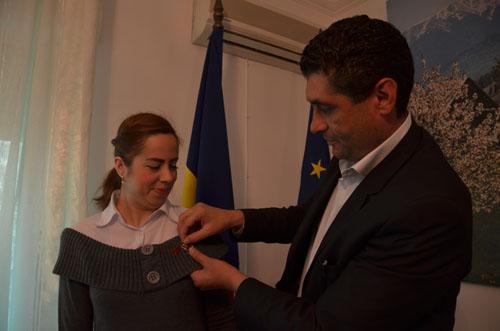 Mar 01,2014
For Persu Doina Saturday's celebration of the ancient Romanian tradition of "Martisor", which marks the advent of spring, was not just an enjoyable event, but also a chance to remember her family back home. 
Feb 27,2014
The embassy of Romania will host its Open Gates Day on Saturday on the occasion of "Martisor", a traditional celebration to mark the beginning of spring and its related symbols: respect for life, peace, human understanding and woman as a source of life and renewal.
Newsletter
Get top stories and blog posts emailed to you each day.