You are here
Salateen Al Tarab group brings Aleppo's heritage, music to Fuheis Festival
By Muath Freij - Aug 06,2016 - Last updated at Aug 06,2016
Members of Salateen Al Tarab troupe perform during a concert held as part of Fuheis Festival on Thursday (Photo by Muath Freij)
FUHEIS — Sitting in an outdoor theatre in Fuheis city on Thursday night, Basil Elias could not hide his excitement over attending a concert performed by his hometown's group, Salateen Al Tarab.
Elias, who is from Syria's Aleppo and has been residing in Jordan for 29 years, said the performance by Salateen Al Tarab reminds him of the days when he used to visit Syria and meet his friends.
"It is a good chance to reminisce about the good old times and even to hear the distinctive Aleppo dialect," Elias, who has not been able to visit Syria for six years, told The Jordan Times.
He was among many audience members who attended the concert performed by the Syrian group as part of the opening of the 25th annual Fuheis Festival.
The nine-day festival is organised in Fuheis' old town, around 20km northwest of Amman, hosting shows performed by bands and artists coming from Syria, Palestine and Lebanon.
Mostafa Al Sagheer, the head of the Syrian troupe, commended the organisers' efforts in facilitating their performance.
"Every member of the group has been in Jordan for a while. I have been in Jordan for four years and it took me one year to bring together the members of the group," he told The Jordan Times in remarks before the performance.
Sagheer said the troupe was first formed in Syria in 1990, noting that it has seen generations of performers follow in the footsteps of the founding members, continuing to perform shows under the name and the artistic identity of the group.
But instability in Syria, he added, has forced each member to move to another country.
"We are working hard to bring these artists together. The message we want to send is that music and heritage will continue to flourish and we are conserving them," Sagheer added.
Fadi Baadali, a singer in the folk troupe who has been in Jordan for three years, said the group seeks to spread the message of peace.
Sagheer said the Jordanian audience's appreciation of the band's art encouraged the members to regroup in Jordan.
Related Articles
Apr 02,2018
AMMAN — A troupe of musicians separated by the Syrian civil war is carrying on the Arab musical heritage through concerts performed in their
Apr 17,2018
AMMAN — Foreign officials and music fans on Monday enjoyed a night of music held to celebrate the power of culture in building communities'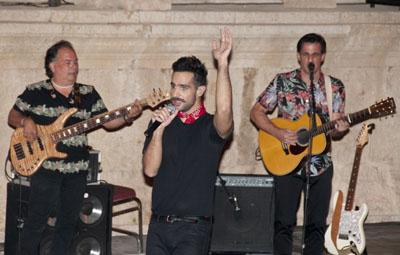 Jun 26,2014
As expected, young Jordanian singer and musician Jaafar delighted the audience at Jerash's North Theatre on Wednesday night, singing mainly covers but also a few of his own compositions. 
Newsletter
Get top stories and blog posts emailed to you each day.