You are here
Save the Children training programme cultivates positive educational experiences
By JT - Aug 26,2021 - Last updated at Aug 26,2021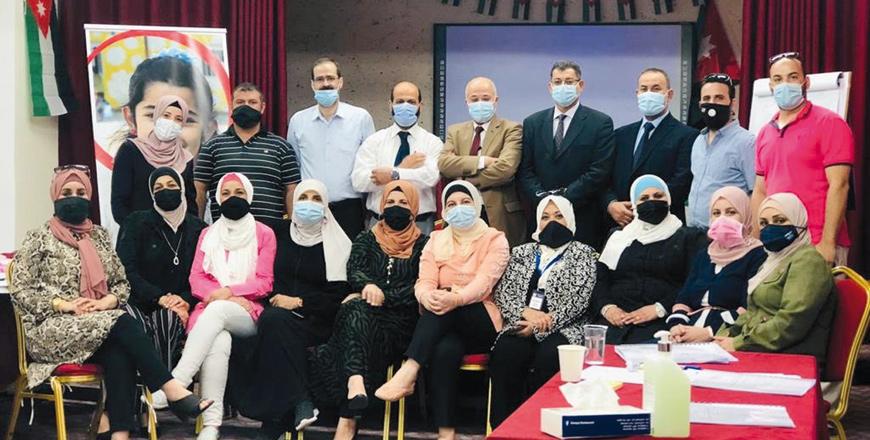 Participants of the Training of Trainers programme organised by Save the Children Jordan, in partnership with the Ministry of Education, pose for a group photo (Photo courtesy of Save the Children)
AMMAN — As part of its continuous efforts towards high quality and comprehensive education for children, Save the Children Jordan, in partnership with the Ministry of Education, announced the launch of its latest Training of Trainers programme.
The programme is aligned with the Ministry of Education's requirements and is designed to develop the capabilities of a selected group of ministry supervisors and trainers. The programme will provide the group with diversified educational tools and methods to train school teachers in the Kingdom's targeted regions, according to a statement from Save the Children.
These methods will enable children to receive "a positive and distinctive educational experience that will ultimately enhance their learning", read the statement.
This comprehensive training programme encompasses approaches that have never been employed before in professional development programmes for educators, the statement said.
The programme replaces the traditional professional development techniques with three key aspects: Expert training, peer-based learning and individual self-learning methods.
The programme focuses on five core aspects of the education process: Personal philosophy and professional ethics, learning resources, teaching thinking, school well-being and design thinking.
During the development and design process, Save the Children was also keen to employ blended education approaches by combining in-person and digital methods to achieve program outcomes, while keeping pace with current and global developments.
The first cycle of the training programme, which ran from April 1 to August 11, 2021, targeted 30 supervisors and educational assistants and 37 teachers from six directorates: Marka, Amman, Irbid, Jerash, Balqa and Tafileh.
The next cycle of the programme is set to begin in September 2021 and will target approximately 30 more supervisors. In the following phase, which is scheduled to start in November of this year, supervisors will train 500 male and female teachers in the five aspects previously mentioned.
Save the Children Jordan CEO Diala Al Khamra said: "Through this programme, we aim to enhance students' academic learning while supporting their psychological and social well-being. This can be achieved by facilitating the professional development of teachers given the central role they play in both the quality of the educational process and the development of each student's skills and abilities.
"We believe that every child has the right to good educational opportunities that will ultimately serve to improve their future prospects."
The training are part of The Transforming Refugee Education Towards Excellence (TREE) programme launched by Save the Children Jordan in 2019 in cooperation with the Massachusetts Institute of Technology's Abdul Latif Jameel World Education Lab (J-WEL).
Newsletter
Get top stories and blog posts emailed to you each day.