You are here
Series of documentaries sheds light on Syrians' individual stories
By Muath Freij - Apr 04,2018 - Last updated at Apr 04,2018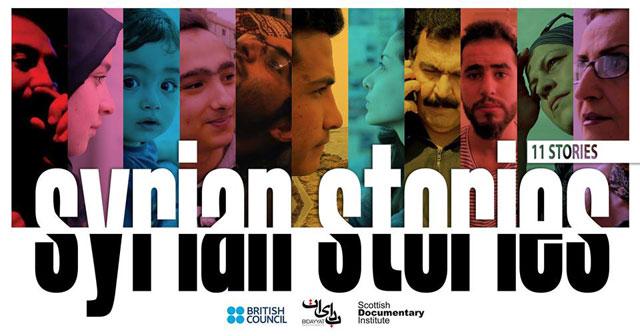 AMMAN — Documentaries have a very important role in times of war and crisis, but they sometimes overlook individual stories, Syrian Hiba Hmaidy said.
The aspiring filmmaker made her remarks during the screening of "Syrian Stories", an anthology of 11 short documentary films at Rainbow Theatre in Amman on Monday.
Born in Aleppo, Hmaidy teamed up with another young Syrian filmmaker, Mohammad Labbad, with whom she made a documentary about her father, a Syrian military man who defected from the national army.
Hmaidy said she managed to tell the story thanks to training she received after she moved to Jordan.
"If I had stayed in Syria I would not have had the chance to reach this level. Moving to Jordan really changed my life and gave me the chance to achieve something through this film," the 28-year-old girl told The Jordan Times ahead of the screening.
Noe Mendelle, director of the Scottish Documentary Institute, said the 11 movies came as the result of a project conducted in collaboration with The British Council and Bidayyat for Audiovisual Arts, a Syrian organisation for Syrian filmmakers outside Syria.
"The three organisations came together last year to establish a project to help young, talented Syrian filmmakers living outside yet close to Syria," she explained, noting that the project included three workshops held in Amman, Beirut, and Istanbul, benefiting a total of 35 Syrian filmmakers.
"The workshop is really about teaching creative documentary, which for us is about telling human stories. But people should remember that telling stories does not mean giving general facts or opinions, it is about shedding light on individual stories," Mendelle added.
Mohammad Abdullah, one of the Syrian filmmakers showcased, worked with fellow Syrian participants in creating a film called "Waiting".
"We chose a friend of ours who is a photojournalist who was injured when he was targeted in an air strike back in Syria. He is the hero of my movie as we focus on his character's wait for recovery and his determination to simply continue living," he told The Jordan Times.
Abdullah recalled how the crew filmed the movie in one day, editing it the following day.
Mohammad Masalmah, a two- year-old Syrian from Daraa who joined Abdullah in the moviemaking process, said he knew what suffering their hero went through because they all suffered from the same pain.
"We wanted to highlight the injuries caused in Syria due to the intensity of the clashes. Since I left Syria, I am striving to do anything for its sake," he added.
For Labbad, Hmaidy's partner in the documentary "Suspended life", the movie aimed to highlight these forgotten segments of society who were deprived from any kind of support. "I benefited a lot from this workshop which was my first step into the world of cinema," he said.
Mendelle said conducting the project on the border with Syria was "very important as it is often even more painful for Syrians living in bordering countries to see what is happening to their country. They are witnessing the destruction through social media, through phone calls by friends and families".
"They are refugees but they do not have the advantages that refugees in Germany, the UK or France have," she explained, stressing the importance of establishing facilities for these young filmmakers.
"We need to keep thinking about the reconstruction of Syria, which will come out of the war and go back to being the country it used to be. For that, we need this generation of filmmakers who can tell the world who they are and what they are doing," she concluded.
Related Articles
Apr 23,2018
AMMAN — At a screening of short documentaries during the Sheffield Film Festival in early April, the majority of the screened films were pro
Aug 20,2017
AMMAN — The seventh edition of Arab Film Festival Amman kicked off on Sunday at the Royal Film Commission-Jordan (RFC), with the scree
Mar 04,2018
AMMAN — Jordan has been on high demand as a filming destination in the past few years, with the Kingdom's appearances on other countries' bi
Newsletter
Get top stories and blog posts emailed to you each day.