You are here
Series of lectures on epigraphic testimonies from region kicks off
By Saeb Rawashdeh - Mar 24,2018 - Last updated at Apr 28,2018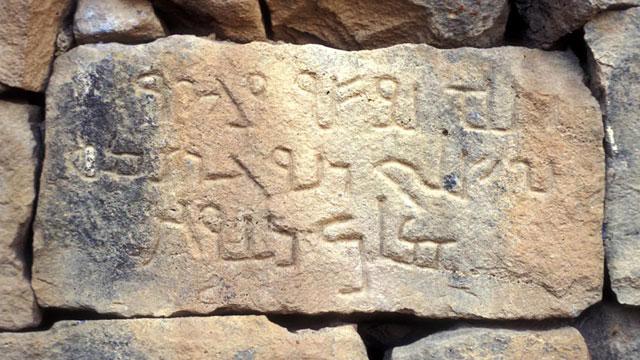 An early Arabic inscription from Um Al Jimal (Photo courtesy of Omar Ghul)
AMMAN — The German Protestant Institute of Archaeology recently launched a series of lectures under the title "Epigraphic Testimonies from Jordan and Beyond", which started off on March 13 with the presentation of Omar Ghul from Irbid's Yarmouk University.
Ghul's lecture "Writing in Jordan: Who, When and Why?" focused on epigraphic evidence from the long history of human occupation in present day Jordan.
The scholar presented the example of the Mittani state, located in southern Anatolia and northern Syria during the Bronze Age (1,500-1,300 BC), where a Hurrian language and cuneiform letters were used.
"Mittani controlled trade routes between Mesopotamia and the Levant thus, cuneiform letters were present at some sites in Jordan," the epigrapher said, noting that languages that were predominant in different historical phases were widely used by different ethnic groups, which is manifested in inscriptions that range from Um Al Jimal in the north all the way to Wadi Rum in the south.
Moving to the period of the Nabataean Kingdom (4th century BC-2nd century AD), Ghul noted that the language had different dialects and was used by non-Nabateans as well.
"The corpus of Nabataean inscriptions from southern Hauran consists today of some 150 inscriptions," Ghul stated, stressing that most of these were discovered in the early 20th century during the expedition organised by the Princeton University.
In the 1990s, a team from Al al-Bayt University in Mafraq conducted a survey that "yielded further Nabataen inscriptions", he added.
Evidence gathered by epigraphers show a variety of topics ranging from trade, personal accounts, public expressions of love and affection to more formal declarations about heads of states and their political and military representatives.
"I am Mesha, son of Kemoshyat, king of Moab, the Dibionite. My father ruled over Moab 30 years, and I ruled after my father. I made this high place for Kemosh in Qarho, because he delivered me from all the kings, and because he let me prevail over all my enemies. Omri was king of Israel, and he oppressed Moab for many days because Kemosh was angry with his country. His son succeeded him, and he also said, 'I will oppress Moab.' In my days he said this.
But I prevailed over him and over his house, and Israel utterly perished forever," one of the inscriptions found on the territory of the Kingdom of Moab read.
The population of Jordan as well as other parts of the Middle East was ethnically heterogeneous in ancient times, Ghul concluded, warning against drawing conclusions about ethnicity of ancient peoples without concrete historical and epigraphic evidence.
Related Articles
Sep 18,2016
AMMAN — Ancient texts and inscriptions are among archaeologists' most valuable finds, offering direct insights into the remains where they a
Feb 18,2023
AMMAN — An ostracon — a piece of pottery broken from a vase — found in 1966 by British archaeologist Crystal Bennett (1918-1987) at Umm Al B
Apr 02,2018