You are here
Shraideh meets Canadian minister of international development
By JT - Aug 07,2022 - Last updated at Aug 08,2022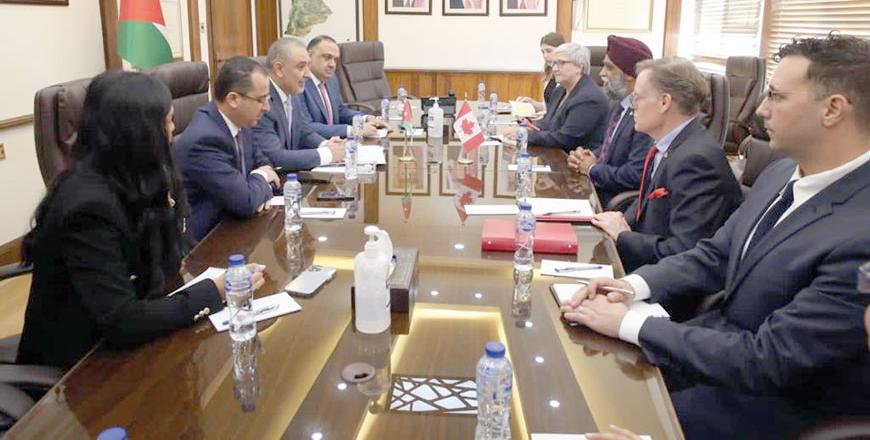 Planning and International Cooperation Minister Nasser Shraideh meets with Canadian Minister of International Development Harjit Sajjan on Sunday (Photo courtesy of Planning Ministry)
AMMAN — Planning and International Cooperation Minister Nasser Shraideh and Canadian Minister of International Development Harjit Sajjan on Sunday discussed means to enhance development cooperation between the two countries.
The two sides discussed framing future aid programmes for Jordan, food security, water security, combating climate change effects and enhancing investment opportunities, mainly developing the role of youth and women, according to a ministry statement.
Shraideh referred to the significance of enhancing Jordanian-Canadian relations and developing the Canadian economic and development aid policy to the Kingdom, stressing the need for coordination and cooperation between the two sides regarding identifying priority fields.
The two ministers also went over the renewal of a memorandum of understanding the two countries signed in 2015 with the aim of agreeing on sectors that will be supported and the magnitude of support expected to be provided to the Kingdom, including the Canadian support to sign an agreement to support the vocational and technical education.
Shraideh highlighted the importance of the national water carrier project, stressing that the scheme is of paramount importance for Jordan's water security.
The minister also referred to the second donor conference that is scheduled to be held early next year.
He stressed that the "huge" challenges that face the Kingdom — such as the Syrian refugee crisis, which has burdened the budget since 2011— did not deter the government from continuing to work and anticipating the future within the Royal vision that seeks to move forward in the comprehensive reform process.
Shraideh noted that Jordan is moving ahead with political, administrative and economic modernisation efforts upon His Majesty King Abdullah's directives, briefing Sajjan on the Economic Modernisation Vision, which is a 10-year roadmap to enable the Kingdom to utilise potentials in the national economy.
The two ministers also went over economic and social challenges facing Jordan, which resulted from the repercussions of COVID and the ramifications of the Russian-Ukrainian crisis.
The Canadian minister praised Jordan's efforts in hosting big numbers of Syrian refugees, expressing his admiration of the capability of the Kingdom and its national economy in dealing with external challenges.
He also praised the role of King Abdullah in the region and the country's moving ahead with important reforms in priority sectors for a comprehensive and sustainable growth, and providing jobs for youth, according to the statement.
Newsletter
Get top stories and blog posts emailed to you each day.