You are here
Social media users urge world to do more for refugees, say Jordan's efforts not appreciated
By Mohammad Ghazal - Sep 05,2015 - Last updated at Sep 05,2015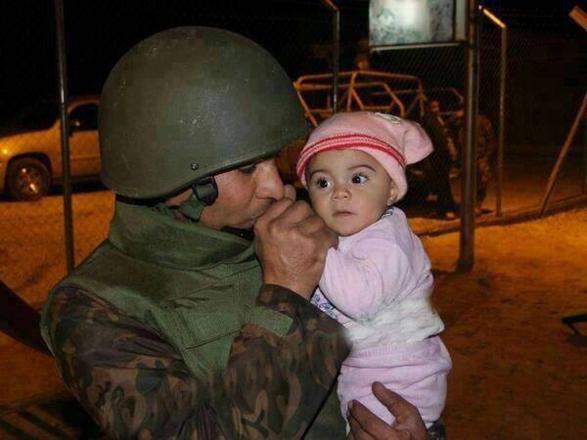 An undated photo shared by social media users in Jordan shows a Jordanian soldier carrying an infant
AMMAN — Jordanian social media users on Saturday highlighted the Kingdom's efforts in hosting Syrian refugees, at a time when wealthier countries in the West are turning many away.
Outraged by the frequent drowning of refugees on their way to cross the Mediterranean to Europe to seek asylum, Facebook and Twitter users from Jordan condemned the world's inaction over the crisis in Syria.
The social media outpouring came after the photo of a drowned Syrian child washed up on the Turkish shores went viral.
The boy was with his family on a boat that capsized on the way to Europe.
"The suffering is on the rise. What is the international community waiting for? A solution should be reached to end this crisis," Salame (@sal-167jo) tweeted over the weekend.
Highlighting Jordan's efforts in hosting over 1.4 million Syrians, several users said many countries in the region, including Jordan, have provided a safe haven for Syrian refugees fleeing the violence in their country amidst declining aid by international agencies and ineffective political action to end the crisis.
Thamer Abadi (@Elsharayaa) highlighted Jordan's continued support for Syrian refugees since the start of the crisis in 2011.
Other tweeps posted pictures of Jordanian soldiers as they receive Syrian families and children crossing into the Kingdom, calling for increased aid for countries hosting refugees.
Many users also slammed EU states for imposing restrictions on entry of Syrian refugees, saying the number of Syrians they receive is not enough.
"The entire West received about 180,000 Syrian refugees only. Mafraq city in Jordan received about 110,000 Syrian refugees," Lahib Bani Sakhar (@lahibbanisakhar) tweeted Saturday.
Mureed Hammad (@Mureed Hammad) had similar views.
"Jordan hosts 1.5 million Syrian refugees out of 4 million refugees who left their state. Those in Europe who are cheerful and complaining at the same time for receiving a few thousand refugees should be fair to Jordan," he tweeted.
Some users slammed Western media coverage of the issue of Syrian refugees, saying when a European country takes a few Syrian refugees the news makes headlines for days, while Jordan has been receiving refugees since 2011 and this is not fairly highlighted.
Mahmoud Salem (@Mahmoud23) said the number of Syrian refugees in Jordan and Lebanon is 50 times greater than those in the EU.
In a tweet last week, Foreign Minister Nasser Judeh (@NasserJudeh) also commented on the child's drowning and shared a photo of a Jordanian army officer carrying an infant.
"May God have mercy on the martyred child and restore the dignity of the Syrian people. We hold our head high as Jordanians for committing to our principles," he tweeted.
A recent report by Statista, a Germany-based statistics portal, said Jordan has the second largest number of refugees per capita after Lebanon, with the ratio of refugees standing at 87 per 1,000 per capita.
In Lebanon, there are an estimated 1.15 million refugees, equating to 232 per 1,000 inhabitants, the report said.
Turkey hosts 21 refugees per 1,000 inhabitants, while Sweden hosts 15 refugees per 1,000 per capita.
But Turkey hosts the largest number of refugees in total, with 1.59 million.
By the end of 2014, 59.5 million people were forcibly displaced, compared to 51.2 million a year earlier, the Statista report said.
Related Articles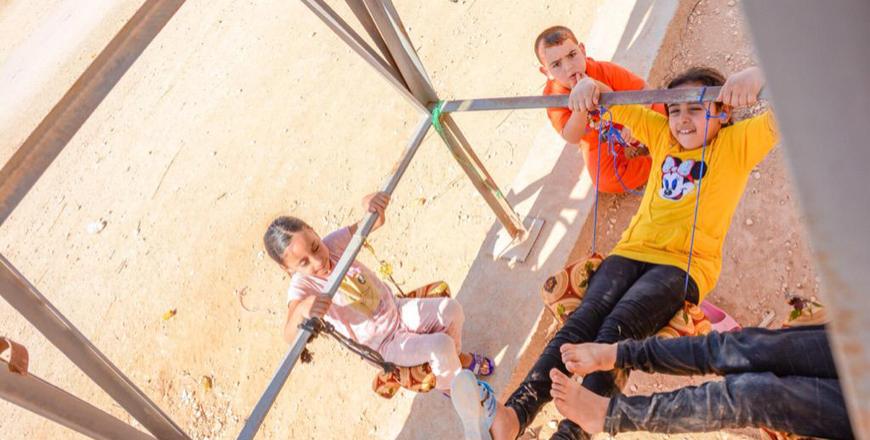 Sep 02,2015
AMMAN — Jordan has the second largest number of refugees per capita, according to an international report.The report by Statista, a Germany-
Nov 08,2014
The Ministry of Water and Irrigation has started the second phase of a project to rehabilitate the water network in Mafraq Governorate's Balama District, a government official said on Saturday.
Mar 08,2017
AMMAN — Jordan is the second largest refugee-hosting country in the world when compared to the size of its population, according to a new re
Newsletter
Get top stories and blog posts emailed to you each day.