You are here
Social Security Corporation to freeze immovable assets of defaulters
By Dana Al Emam - Jun 17,2014 - Last updated at Jun 17,2014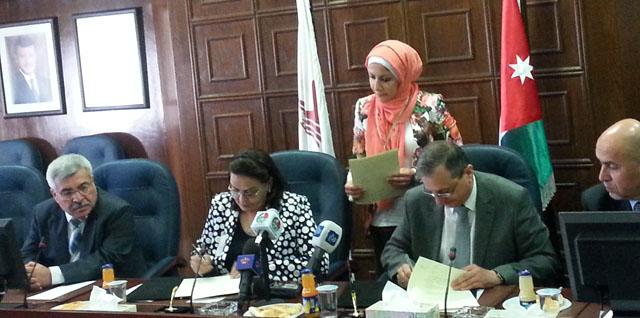 AMMAN — The Social Security Corporation (SSC) will now be able to electronically freeze the immovable assets of defaulters under a memorandum of understanding signed with the Department of Lands and Survey (DLS) on Tuesday.
SSC Director General Nadia Rawabdeh and DLS Director General Moeen Sayegh signed the agreement, which is a step towards collecting unpaid subscription fees of individuals and institutions.
Rawabdeh said the memo is aimed at "decreasing the debts" individuals and companies owe the corporation and facilitating the SSC's procedures in collecting its dues.
"The agreement is an embodiment of the corporation's strategic plan to expand the umbrella of social security and to eliminate insurance evasion," she told reporters.
Sayegh, for his part, described the agreement as a cornerstone in building a "smart government" that saves the time and effort of citizens and public institutions, voicing hope to that this cooperation will be extended to include other institutions.
Musa Sbeihi, head of the SSC media office, told The Jordan Times that the cumulative unpaid subscription fees, including delay fines, exceed JD100 million.
"Most of the unpaid subscription fees are those of private institutions," he said, adding that municipalities' dues reached JD14 million, an issue that was recently resolved by an agreement to pay the amount in instalments.
According to the agreement signed Tuesday, the DLS will train SSC staff on the techniques of freezing assets through its databases, in addition to allowing the SSC to inquire about property ownership using citizens' national numbers.
Under the memo, the SSC will be committed to protecting the confidentiality of the information that belongs to the DLS.
The two parties agreed to create a joint committee to follow up on implementing the agreement, review it annually and include any needed changes.
Related Articles
Aug 18,2014
The Social Security Corporation (SSC) plans to file lawsuits against private and public institutions with unpaid subscriptions unless they coordinate with the corporation for a payment plan, an official said on Monday.
Sep 06,2014
The Social Security Corporation (SSC) warned on Saturday against the increasing number of early retirees, saying the expenditure on early retirement pensions is threatening its sustainability.
Jan 29,2014
The Cities and Villages Development Bank (CVDB) will pay the Social Security Corporation (SSC) JD16.5 million owed by municipalities in unpaid subscription fees for their employees.
Newsletter
Get top stories and blog posts emailed to you each day.