You are here
SOFEX 2016 opens, with focus on response to untraditional threats
By JT - May 09,2016 - Last updated at May 09,2016
AMMAN — HRH Prince Feisal on Monday attended the inauguration ceremony of the Special Operations Forces Exhibition (SOFEX) Conference 2016.
King's Military Adviser and Chairman of the Joint Chiefs-of-Staff Gen. Mashal Al Zaben delivered a speech, highlighting that the international community faces challenges – including the use of the Internet by terrorists – that require decision makers to counter such threats by exchanging expertise, joint action and utilisation of advanced technologies.
In the presence of several Arab and foreign defence ministers, army chiefs and senior military officers, Zaben added that regional circumstances have in the past few years prompted the Kingdom to supply its armed forces with modern weapons and focus its attention on border security.
In this regard, he said that Border Guards have the latest systems and equipment used in border security, the Jordan News Agency, Petra, reported.
Amer Tabbaa, the director of SOFEX, said that this year's SOFEX and Middle East Special Operations Commanders Conference are good opportunities to exchange expertise to improve performance in the fields of special operations and national security.
SOFEX is featuring workshops to discuss the latest developments in the special operations field designed to advance performance in the battlefield against untraditional threats. Other workshops tackle rescue operations in hostile territories and rough terrains, Petra added.
Related Articles
May 08,2014
The Special Operations Forces Exhibition (SOFEX) 2014 has succeeded regionally and internationally, SOFEX Managing Director Amer Tabbaa said on Thursday.
May 10,2016
AMMAN — His Majesty King Abdullah, the Supreme Commander of the Jordan Armed Forces-Arab Army (JAF), on Tuesday inaugurated the 11th Special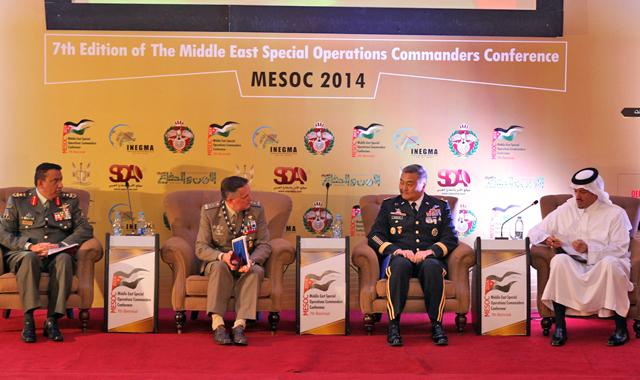 May 05,2014
The 7th Edition of the Middle East Special Operations Commanders conference opened on Monday, on the sidelines of the 10th Special Operations Forces Exhibition (SOFEX 2014), which will be officially inaugurated on Tuesday. 
Newsletter
Get top stories and blog posts emailed to you each day.