You are here
For some Jordanians, smoke-free spaces in short supply
By Muath Freij - Nov 23,2015 - Last updated at Nov 23,2015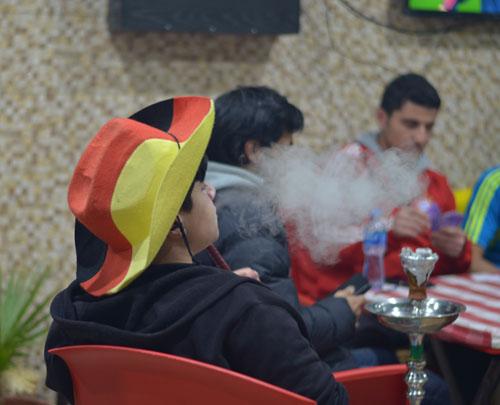 A grass-roots movement is advocating for more smoke-free spaces in Jordan (Photo by Muath Freij )
AMMAN — Zeina Shahzada-Majali has faced great difficulty in taking her four children to places that offer a healthy, smoke-free atmosphere.
She noted that many public spaces do not fully ban smoking, posing dangerous consequences to her children's health.
This experience motivated Shahzada-Majali to launch an online campaign called "Women against Indoor Smoking" in 2010, with her "No to Smoking" Facebook page about to reach 1 million followers.
The activist later decided to expand the scope of her activities and transform her campaign into a society that raises public awareness of this issue.
"We call for implementing all laws against smoking in Jordan," Shahzada-Majali told The Jordan Times over the phone on Monday.
Under the Public Health Law, smoking is prohibited in hospitals, healthcare centres, schools, cinemas, theatres, libraries, museums, public and non-governmental buildings, public transport vehicles, airports, closed playgrounds, lecture halls and any other location to be determined by the health minister.
The law also stipulates that any person caught smoking in a public place is subject to between one week and one month imprisonment or a JD15-25 fine. The same penalties apply to those who sell cigarettes to minors.
Shahzada-Majali argued that there is poor implementation of the law in Jordan.
"People are smoking everywhere, including on public transport and at hospitals, malls and cafés. I have photos of people smoking inside an intensive care unit at a public hospital in Amman," she recalled.
Health Ministry officials were not available to comment on this issue despite several attempts by The Jordan Times.
The anti-smoking campaigner described this trend as an "epidemic".
"In the past, children would start smoking at 16 years old and later begin smoking argileh [water pipe]. Now, we see children start smoking at the age of 10," she said.
"The problem is that argileh cafés also serve food and drinks, and therefore many customers frequent them."
However, she also noted that the number of cafés that do not serve argileh and prohibit smoking indoors is growing.
Linda Khoury, who owns a café in Jabal Luweibdeh that does not serve argileh, said she faced a wave of criticism when she decided to open her business.
"Many people doubted that my café would be successful. But I did not only want to make a profit, because I follow a principle that I like to enforce," she told The Jordan Times.
Khoury said café owners turned to serving argileh for economic reasons rather than creating a healthy place to bring people together.
"When they first open a place that only serves drinks and do not make the profits they hoped for, they start serving argileh at high prices to make the business more profitable."
However, Khoury said many of those who opposed her idea at first changed their minds after experiencing the positive atmosphere of her smoke-free café.
Feras Hawari, director of the King Hussein Cancer Centre's (KHCC) cancer control office, said the law exists but a better enforcement mechanism is needed.
"When the law is implemented, we quickly feel a positive impact. For example, when the US implemented anti-smoking measures in many states, the ratio of heart attacks relative to the population decreased significantly," he said.
Hawari highlighted KHCC's "Smoke-Free Zone" certificate programme, which he said has had a positive moral impact on institutions that received the certificate and motivated them to continue prohibiting smoking.
"This initiative has been active for two years. In the first year, 30 locations received the certificate, and 80 in the second year," he added.
The initiative encourages companies, institutions and restaurants to provide a healthy and smoke-free environment for their employees and customers, according to the KHCC website.
Mohammad Nayef, an architect, said he always avoids places that serve argileh.
"I prefer to go out with friends who like to visit cafés that do not serve argileh."
Dina Bataineh, 25, agreed on the need for better implementation of anti-smoking measures.
"Some places are divided into two areas, one for smokers and one for non-smokers, but they are not actually separated and so I don't find it very effective," she said, calling for increasing the number of smoke-free cafés.
Shahzada-Majali noted that her anti-smoking campaign's activities include awareness initiatives for students in school and financial support for university students seeking to run similar initiatives on campus.
"When we deliver lectures about smoking," she said, "some people point out: 'Look at Parliament; there are even people smoking there as well'."
Lawmakers have often been criticised for smoking under the Dome despite having endorsed the law that prohibits smoking in public areas.
Last year, the Senate endorsed a code of conduct that prohibits senators from smoking either under the Dome or during committee meetings.
Several deputies have led initiatives in the past to combat smoking during Lower House meetings.
Related Articles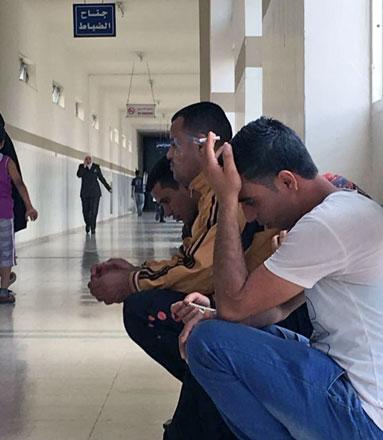 Sep 09,2016
AMMAN — Despite all the laws and regulations in place, banning smoking in hospitals is still not fully applied, according to an anti-smoking
Mar 12,2014
The King Hussein Cancer Foundation and the King Hussein Cancer Centre (KHCC) will start issuing "smoke-free zone" certificates to institutions that ban smoking in all their indoor facilities, a KHCC official said Wednesday.
Feb 25,2017
AMMAN — Nineteen cafes were closed down in Amman in January after being caught serving argileh to minors, as the Greater Amman Municipality
Newsletter
Get top stories and blog posts emailed to you each day.