You are here
'Spain, Jordan stand together against terrorism, extremism'
By JT - Nov 20,2015 - Last updated at Nov 20,2015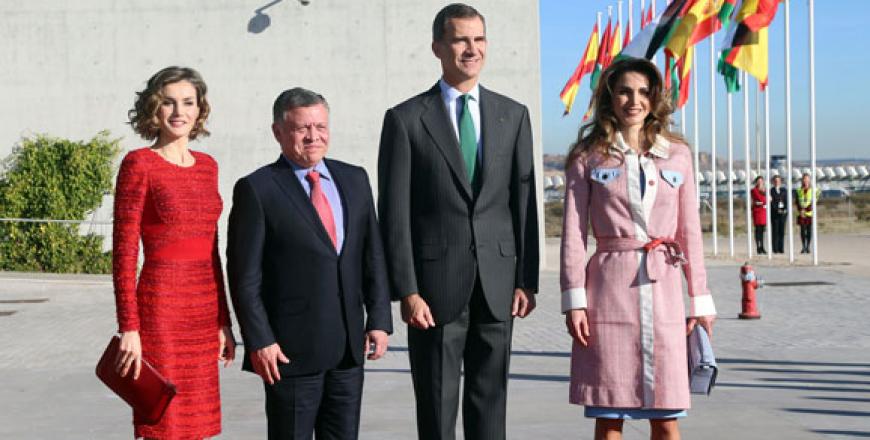 Their Majesties King Abdullah and Queen Rania are received by Spanish King Felipe VI and Queen Letizia upon their arrival in Madrid on Thursday (Photo courtesy of Royal Court)
AMMAN — His Majesty King Abdullah and Prime Minister Mariano Rajoy on Thursday affirmed that Jordan and Spain stand side-by-side in confronting the dangers of terrorism and radicalisation.
During a meeting in Madrid, the King and Rajoy discussed the latest developments at the regional and global levels.
Discussions focused on efforts to deal with the dangers of terrorism and extremism, according to a Royal Court statement.
King Abdullah stressed Jordan's condemnation of attacks carried out by terror groups in the region and worldwide, and noted that such criminal acts necessitate intensifying the level of cooperation and coordination among the various international parties to deal holistically with this danger that is threatening everybody.
During the meeting, held at the headquarters of the Spanish Cabinet, the two leaders also reviewed the outcome of the international meeting in Vienna on the Syrian crisis, and means to arrive at a comprehensive solution.
The King highlighted the increasing burdens the Kingdom is shouldering as a result of hosting 1.4 million Syrians, coupled with mounting pressures on the country's scarce resources, urging the international community to intensify its support for Jordan to help it pursue its humanitarian mission.
His Majesty and Spain's prime minister also stressed the importance of reviving the Middle East peace process on the basis of the two-state solution, warning that missing opportunities to achieve peace fuels the upsurge of violence and radicalism.
Addressing means to boost bilateral relations, King Abdullah said Jordan holds Spain in high esteem, in light of the friendship, cooperation and strategic partnership between the two countries, stressing the Kingdom's keenness on developing its relations with Spain further.
The King urged Spanish businesspeople to benefit from investment opportunities in Jordan, especially in the fields of ICT, energy and infrastructure.
King Abdullah and Rajoy reviewed ways to coordinate on various issues, through the UN Security Council, as Spain has recently assumed the rotating presidency, besides boosting Jordanian-Spanish ties through the Kingdom's relation with the European Union.
The prime minister welcomed King Abdullah and the accompanying delegation, describing him as Spain's constant friend.
He stressed Spain's commitment to strengthening its economic relations with Jordan and exploring prospects of joint investments.
The Spanish premier lauded the King's efforts and his clear and strong positions against terrorism and terror groups, as well as his relentless endeavours to boost regional security and stability.
Upon their arrival in Madrid earlier on Tuesday, King Abdullah and Her Majesty Queen Rania were received by King Felipe VI of Spain and Queen Letizia.
Madrid is the third leg of the King's working visit to Europe, which he began earlier this week.
King Abdullah and King Felipe VI were saluted by guards of honour and the Jordanian and Spanish anthems were played, according to a Royal Court statement.
Related Articles
Apr 11,2018
MADRID, Spain — A coalition of NGOs on Wednesday urged Spain not to sign off on a planned sale of warships to Saudi Arabia during an upcomin
Nov 21,2015
AMMAN — His Majesty King Abdullah held talks with Spanish King Felipe VI on Friday and stressed that Jordanian-Spanish ties are firm and dee
Apr 12,2018
MADRID, Spain — Saudi Arabia's crown prince held talks with Spain's King Felipe VI on Thursday during an official visit to the country which
Newsletter
Get top stories and blog posts emailed to you each day.