You are here
Specialised school a 'meeting point' for students with disabilities
By Elisa Oddone - May 15,2014 - Last updated at May 15,2014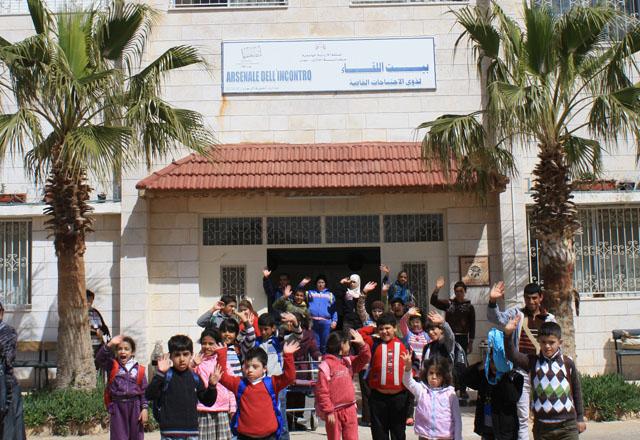 MADABA — A specialised school in the city of Madaba is ensuring that children and young people with disabilities have the same opportunities as their mainstream peers.
An offshoot of the Arsenal of Peace, a metropolitan monastery open to the world round-the-clock in Italy's northern city of Turin, Madaba's Meeting Point Arsenal, or Beit Al Liqaa in Arabic, opened its doors to its first Christian and Muslim students in 2007.
"We initially had two classes and eight children; now we have 200 and as many on the school waiting list," said Cristiana Capitani, a member of the Young People's Missionary Service (Sermig) working in Jordan, the Christian missionary group at the heart of the Arsenal's activities.
"In Jordan, the majority of children with disabilities are not integrated in normal schools, even though the government is trying to do so," Capitani told The Jordan Times in a recent interview in Madaba, some 30km southwest of Amman.
"Therefore, they still need special schools suitable for them," she added, noting that traditional marriages between blood relatives, car accidents and complications during delivery are accountable for the large number of children with disabilities in the country.
In 2003, the Latin Patriarchate of Jerusalem invited the group to serve people with disabilities in Jordan, with a special focus on the poorer areas, eventually establishing the project in Madaba, which is home to over 160,000 people, Sermig members told The Jordan Times.
Capitani said the group's mission is to fight social injustice all over the world.
"In six months, we renovated the school's ground floor preparing it to welcome children with disabilities, and host learning and vocational activities."
All students suffer from mild to moderate disabilities spanning learning difficulties, communication, or emotional and behavioural disorders, making it hard for them to reach normal academic achievements.
About 40 children between the ages of six and 15 attend classes five days a week for four hours. In the afternoon, children who need to examine more in depth what was studied in the morning receive special education.
A group of 90 students aged between 18 and 30 attends vocational training courses in the evening, which includes gardening, mosaic making and tailoring, while others receive individual lessons up to three times a week for speech therapy, physiotherapy and occupational therapy to develop or maintain daily living and work skills.
"We train the children in academics as well as development of self-service, sensory, motor and socialisation skills," said Irene Panarello, a Sermig member working in Jordan.
"The school also helps our students' families, offering exchange activities in which they can meet, share cultural activities, deliver lectures and provide entertainment," the 27-year-old added.
Sermig began its commitment in the Middle East in 1988, when its founder Ernesto Olivero started travelling to the region and running projects in Lebanon, Jordan, Iraq, Palestine and Israel.
"Meeting" was the theme of those first trips aiming at supporting the ability of Muslims, Christians and Jews to live together in a war-torn region, according to Olivero.
"The Meeting Point Arsenal in Jordan was designed to facilitate peace and human coexistence in the Middle East through dialogue between the East and the West, welcoming students from [all] faiths," Olivero told The Jordan Times during a recent visit to the Kingdom.
Despite being a predominantly Muslim country, Jordan is considered a model for religious tolerance between Muslims and Christians in a region where confrontations between members of both communities have increased in the wake of the Arab Spring.
In 1964, Olivero decided to found a small group in Turin to fight global hunger as up to present-day, 100,000 people starve to death daily.
Twenty years on, Sermig established its headquarters upon the ruins of a military arsenal, where weapons for the two world wars were manufactured.
Over the years, the 40,000-square-metre compound has become the Arsenal of Peace, a symbol of hope demonstrating that a factory of death could be transformed into a factory of life, Olivero said.
"We have had projects in 140 countries providing help to believers, non-believers, Muslims, orthodox, regardless of their faith or background. We have been running about 3,500 projects worldwide."
Olivero's project can count on around 6,000 volunteers to support charity activities worldwide and donations covering almost the entirety of its activities.
"I came to Jordan following the Gulf War in the 1990s and met His Majesty King Hussein. Years later I was asked to open this school," he said, adding that beyond Sermig's headquarters in Turin and the project in Madaba, the charity group is running the Arsenal of Hope in Brazil providing shelter for poor people.
"We hope our school in Jordan is a sign of hope, where dialogue happens in facts and not words. Our dream is that dialogue, even among difficulties, and suffering might overcome and transform prejudice," Olivero added.
Chiara Giorgio, another Sermig member working in Jordan, said running the school steadily posed new challenges.
"We start anew every day, since starting with new eyes enables the achievement of big things. We train ourselves to grow this project and to constantly help new people," the 33-year-old added.
"We try to get the inner beauty out of every student. Everyone has a special necessity and needs help to unfold his own talent."
Related Articles
Sep 04,2019
AMMAN — Her Majesty Queen Rania marked the start of the new school year with a visit to Dulayl in Zarqa Governorate on Wednesday, where she
Oct 29,2016
AMMAN — Culture, heritage and arts are doing what politics fail to achieve — bringing world countries together side-by-side under one roof.F
Jan 24,2022
AMMAN — Despite various inclusive education programmes and pilots, many children with disabilities are still excluded from education, physic