You are here
Sri Lanka eyeing robust tourist influx from Jordan, Middle East
By Mohammad Ghazal - Jul 04,2016 - Last updated at Jul 04,2016
COLOMBO — The number of Jordanian and Middle Eastern tourists heading to Sri Lanka is on the rise and expected to witness a further boom as intensified tourism promotion activities are being held and major tourism facilities are in the pipelines in the "Pearl of the Indian Ocean", according to officials and experts.
The island nation, which attracts some 1.8 million tourists annually, is witnessing the construction of hotels, commercial centres and entertainment facilities, the officials and experts said during a recent familiarisation trip to Sri Lanka held in cooperation between the Sri Lanka embassy in Amman and Air Arabia.
Focusing on the country's deep-rooted and rich history, Colombo has also embarked on a strategy to increase the number of tourists and familiarise them with its attractions and UNESCO World Heritage Sites, including Sigiriya, which refers to the ruins of the capital built by the parricidal King Kassapa I (477–95).
"Sri Lanka has a very rich history… It has a lot to offer… It is the place for honeymooners, nature and wild life lovers, sea sport fans. Whatever tourists are looking for, it is there in Sri Lanka," Sri Lankan Ambassador to Jordan Abdul Latiff Lafeer said in an interview with The Jordan Times in Colombo during the trip.
The ambassador said Sri Lanka has developed a strategic marketing plan for 2016 with the participation of the private sector and stakeholders to address the needs of the tourism industry.
The strategy includes promotional activities and advertisements in various areas to attract more tourists and increase the sector's revenues.
As many tourists go online for holiday reservations, Sri Lanka launched an online and digital marketing campaign under which it will create language-specific websites for all main markets and promote destinations via focused online and social media platforms identified in each country, said Lafeer.
Sri Lanka will also continue to hold trade and media familiarisation tours, inviting travel agents from across the world.
More than 25 cultural, religious, art and entertainment events are planned to be held in Sri Lanka with international participation in 2016, he added.
At present, there are some 27,000 hotel rooms in Sri Lanka, and the number is expected to grow into 35,000 in the next two years, Darell De Crusz, the vice president of Aitken Spence Travels in Sri Lanka, said during the trip, which covered several areas including Kandy, Colombo, Kandalama, Kalutara and Pinnawala.
Of the total number of annual visitors, some 100,000 are Middle Eastern tourists, and their number is growing by 7 to 8 per cent annually, De Crusz told The Jordan Times.
Middle Eastern tourists rank sixth in numbers among all tourists coming to Sri Lanka per year, according to De Crusz.
"The Middle East is a very important market for us. In Sri Lanka, we have halal food... almost in every restaurant in the country. Sri Lanka is a very peaceful country and very affordable for Middle Eastern tourists," he said, adding that low-cost airlines have frequent flights every day.
According to Mohammad Matarneh, the key account manager at the Air Arabia in Jordan, there is increased connectivity and high demand by passengers from the region to Sri Lanka.
"We operate 14 flights from Amman to Sharjah per week and there are 13 flights from Sharjah to Sri Lanka per week," Matarneh told The Jordan Times during the visit to Sri Lanka.
"The demand is high and the potential is increasing," he added.
Tourism revenues in Sri Lanka stand at about $2.6 billion per year, and the plan is to increase it to $3.5 billion per year, De Crusz said, adding that the size of Sri Lanka's economy is around $60 billion.
According to Ambassador Lafeer, some 7,000 Jordanians visit Sri Lanka per year and the number is gradually growing.
"We are not satisfied with this number. We believe the potential is huge and there is more to do," he said.
In August, the embassy is planning to hold a visit in cooperation with the Jordan Tourism Board for several tour operators from Sri Lanka to Jordan to familiarise them with tourism attractions and facilitate networking and exchange between Sri Lankan and Jordanian tour operators, said the ambassador.
"The embassy will focus on increased tourism cooperation this year. There is a lot more that we can and should do," he added.
Related Articles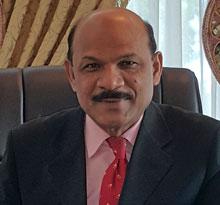 Feb 03,2018
AMMAN — Several memoranda of understanding (MoU) are expected to be signed between Sri Lanka and Jordan this year to boost ties in various a
Feb 04,2017
AMMAN — Public-private partnerships are essential to tap the huge potential for increased cooperation between Jordan and Sri Lanka in touris
Feb 03,2016
AMMAN — Several steps will be taken this year to tap the potential to strengthen Sri Lankan-Jordanian cooperation in various areas, accordin
Newsletter
Get top stories and blog posts emailed to you each day.