You are here
Stakeholders join forces to research, preserve Tell Al Husn historical site
By Saeb Rawashdeh - Jul 22,2018 - Last updated at Jul 22,2018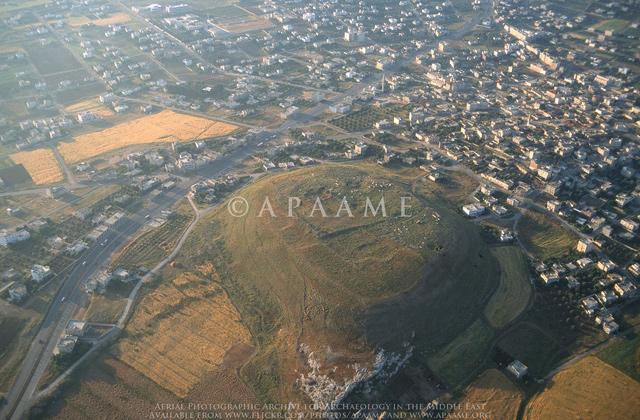 The aerial view of Tell Al Husn, some eight kilometres south of Irbid (Photo courtesy of APAAME)
AMMAN — The historical site of Tell Al Husn on Thursday witnessed the gathering of a number of officials who discussed ways of boosting cooperation in the fields of preservation, conservation and research of the locality.
Minister of Tourism and Antiquities Lina Annab, Director General of the Department of Antiquities (DoA) Munther Jamhawi, President of Yarmouk University Zeidan Kafafi and members of the Faculty of Archaeology and Anthropology of Yarmouk University were among the personalities who convened at the site, located 65 kilometres north of Amman, along with local stakeholders.
"The summit of Tell Al Husn is occupied by a huge Muslim cemetery that covers a very large area of the site," said the president of Yarmouk University, noting that the slopes of Tell Al Husn belong to private entities of the town.
Although he did not personally work as an archaeologist at Tell Al Husn, Kafafi became acquainted with the site from the literature existing on the archaeological material excavated there, most specifically the survey conducted by American archaeologist Nelson Glueck (1900-1971), a pioneer of Biblical archaeology who unearthed over 1,000 ancient sites.
"Unfortunately, up to the present day, nothing has been completely published about the stratigraphic or the chronological sequence of Tell Al Husn, and this is due to the fact that the Yarmouk University archaeological excavations concentrated on the summit of the tell," Kafafi noted, adding that other research teams have in the meantime worked on the side of the highway connecting Al Husn and Irbid, mainly focusing on rescuing present artifacts.
"I did not excavate at Tell Al Husn, but, in 1970, the Jordanian government intended to enlarge the road between Al Husn and Irbid and, during the bulldozing operations, a cave full of pottery vessels was uncovered," the veteran scholar told The Jordan Times in a recent interview.
According to Kafafi, despite the "great" significance of Tell Al Husn for the Jordanian heritage, the local community unfortunately often neglected its historical value, being more concerned with treasure hunting.
"I believe regular excavations involving the people of Al Husn in the digging operations will help explain to them its historical importance," he stated.
Tell Al Husn dates earliest occupations to Bronze Age (3900–2000 BC) and the site was later inhabited, as proven by traces from the Middle Bronze Age, Late Bronze Age, Roman, Byzantine, Umayyad and Abbaside pottery.
Kafifi stated that the new excavations at the site were conducted by the university, as it has become "the only site available for the training of the Yarmouk Universsity archaeology students".
Newsletter
Get top stories and blog posts emailed to you each day.