You are here
Stem cell centre ready to take off, lead, but hands already tied
CTC chief optimistic, but warns against too high expectations, at least for now
By Laila Azzeh - Sep 01,2016 - Last updated at Sep 01,2016
AMMAN – A medical centre aspires to lead stem cell therapy research in the region with a "committed reality-based approach that opposes miraculous claims associated with this modern science", scientists managing the facility said.
Since its establishment in 2008, the Cell Therapy Centre (CTC) has seen success in its work, despite funding setbacks, said CTC Director General Abdullah Al Abbadi.
"The idea behind CTC is based on the fact that stem cell biology is a futuristic promising field of therapy that Jordan and the University of Jordan should be leading," Abbadi told The Jordan Times on Wednesday.
Built over an area of 3,200 square metres on the University of Jordan's campus at a cost of JD10 million, the facility houses several specialised labs and cell implant and production units.
"There are well established studies for stem cell therapy today, but within the coming decades there will be a huge number of diseases that can be either cured or alleviated by the use of stem cells," the director told The Jordan Times on Wednesday at his office.
Citing examples, the professor of hematology and oncology noted that stem cell therapy can be applied to cure joint diseases, neurodegenerative and neuroinflammatory disorders, in addition to metabolic conditions and the creation of tissues to repair damaged areas, such as the cornea.
On the process of receiving and diagnosing patients, Abbadi noted that the centre is "currently recruiting patients to be part of the research being conducted by the facility using social media or references by other physicians".
"All the patients we take are screened to participate in a clinical research study. Once we have an established indication that this is very useful and successful and safe, we take it to the next step, which is the actual application of the therapy," he added.
Touching on the centre's success stories, the professor indicated that they are concentrating on the fields of chronic degenerative diseases of the knee cartilage, spinal cord injuries due to road accidents and multiple sclerosis.
"We have successful stories of patients with multiple sclerosis who have been cured with stem cells in our centre," he said.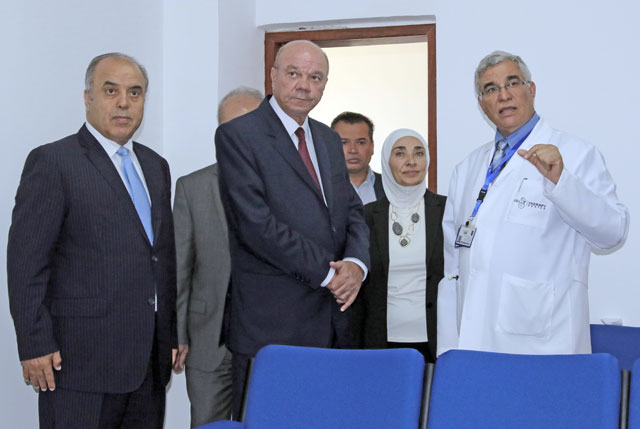 Stem Cell Centre Director General Abdullah Al Abbadi (right) explains to Senate President Faisal Al Fayez and senators the mission and operation of the scientific research facility in Amman on Wednesday (Photo by Osama Aqarbeh)
Commenting on news reports that promise to cure diabetes by stem cells, Abbadi explained that type 1 diabetes is an autoimmune condition.
"This means that theoretically, we have lots of cells which can suppress this autoimmunity and potentially many make the control of diabetes much better," he said.
However, he voiced doubts that this would replace the traditional treatment.
"But it would definitely make the lives of diabetic persons more manageable and controllable," Abbadi said, noting that there is additional research and animal experiments in which cells are being generated to produce insulin and to respond to the glucose level, but this technique will not be available anytime soon.
"My own feeling is that in coming decades or perhaps is 15 years we will have something commercial available for the treatment of type 1 diabetes," he added.
The CTC is a signatory to several memoranda of understanding with institutions in Europe and North America. It also eyes expanding its expertise exchange to South Korea and Japan.
Despite its efforts, the centre is suffering from huge financial and logistical hurdles.
"The challenges are huge and tremendous but we are determined to overcome them all. The difficulties include availability of funds to support our research and also some logistic issues," Abbadi said, stressing that there are "some reactionary powers that do not believe in moving forward".
The commitment of the CTC's 40 staff members to ensuring a strong showing of their facility on the regional stem cell research map has placed the research centre in the regional spotlight.
"We are several years ahead of many of our neighbours in the clinical research application and hopefully we will be the hub for the region," the CTC chief said.
Acknowledging the "miraculous" claims some Jordanian doctors make on the ability of stem cell therapy, he advised people to be careful not to believe in everything they hear about this scientific branch.
"We should not be carried away by too many claims, I think we should be able to restrict this to what is available as evidence," the professor said.
On the other hand, he reiterated that stem cell therapy is an "extremely" promising arena.
"I do not want people to overreact; they have to give us time. We need to verify many of the methodologies and applications but I am confident that within the coming three years, we will have available products for treatment," said Abbadi.
Senate President Faisal Fayez paid a visit to the facility on Wednesday and listened to a briefing on its mission and operations.
He called on the public and private sectors to extend the necessary support to the CTC to enable it to fulfil its aspirations.
In May, His Majesty King Abdullah officially inaugurated the centre, which was established using a grant by the Saudi Fund for Development.
Related Articles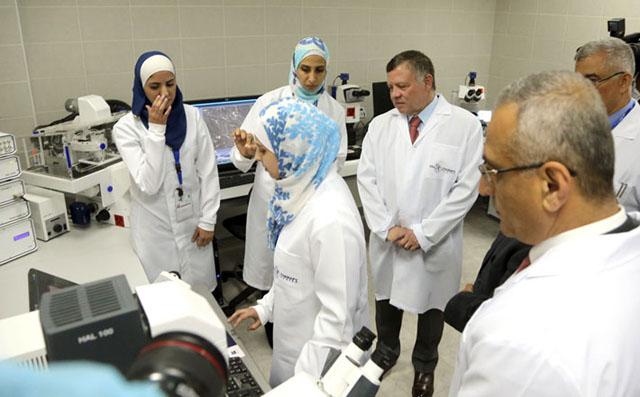 May 08,2016
AMMAN — His Majesty King Abdullah on Sunday inaugurated the Cell Therapy Centre (CTC) at the University of Jordan (UJ), the first of its kin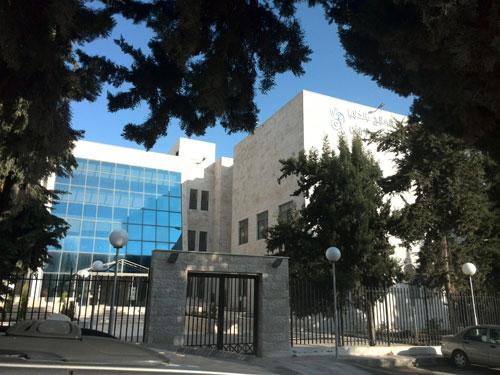 Mar 31,2016
AMMAN — A local centre is employing the "latest technology" in stem cell therapy to benefit patients from Jordan and abroad, with the aim of
Apr 13,2017
AMMAN — Director of the Cell Therapy Centre (CTC) at the University of Jordan Abdullah Abbadi said that Jordan has become a leader at the Ar
Newsletter
Get top stories and blog posts emailed to you each day.