You are here
Student-designed billing, health apps shine bright at CPF awards
By Maram Kayed - Feb 25,2020 - Last updated at Feb 25,2020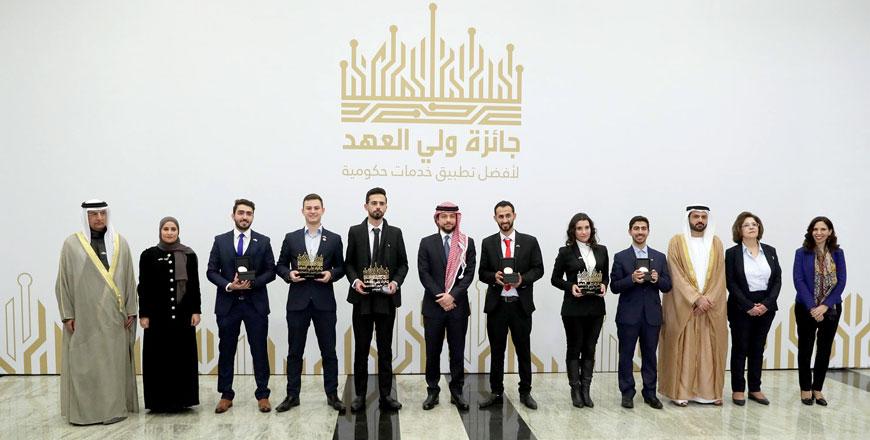 HRH Crown Prince Hussein poses for a photo with winners of the first edition of the Crown Prince Foundation Award for Best Government Service Mobile Application on Tuesday (Petra photo)
AMMAN — In its first round ever, the Crown Prince Foundation Award for Best Government Service Mobile Application, valued at JD50,000, was awarded to Khadamaty, a mobile app designed by two students from Al al-Bayt University, on Tuesday.
The two students, Ahmad Badawi and Mohammad Hussein, designed an app that allows citizens and businesses to take photos of their electricity or water meter readings and send it to their service providers, receiving their bills without waiting for the company field officer to visit.
The award, a joint Jordan-UAE initiative launched in April 2019, saw five finalists out of 94 apps submitted in its first round. It challenged Jordanian university students to come up with an app facilitating the provision of government services.
At the awards ceremony, attended by HRH Crown Prince Hussein, Minister of State for Institutional Performance Development Yasera Ghosheh said that the award is "yet another step that exemplifies Jordan and the UAE's partnership in digitising government services".
"With the help of the youth, we can make a significant change in government performance. This has always been highlighted by His Majesty King Abdullah in all his speeches and directions to the government," she added.
Since April of last year, a Jordanian-UAE team visited 32 universities and reached more than 300 students. Ultimately, 69 teams from 18 universities submitted 94 applications to the award.
The focus was on six sectors that were described as "lively", among them education, health, water and transportation.
Three key criteria were used to evaluate the best apps — efficiency and effectiveness, representing 40 per cent of the assessment; user friendliness (40 per cent) and innovation (20 per cent).
In second place, with a JD30,000 award, came the mobile app SOS Jordan, designed by students from Princess Sumaya University for Technology and the Applied Science Private University. The app sends a distress signal along with the users' health information to an emergency contact list so that if an ambulance or any health emergency service is contacted through the app, the medical crew would already be aware of the patient's health condition.
Vaccine Jo, an app designed by students from the Princess Sumaya University for Technology, was awarded third place and JD20,000 for its idea to transform a child's vaccine card into an electronic form, preventing loss or misplacement, as recommended by the Health Ministry.
UAE Minister of State for Happiness and Wellbeing Ohood Bint Khalfan Al Roumi said at the award ceremony that youth remain "the most important resource for a nation".
"Celebrating the winners today is a manifestation of the fruitful partnership between Jordan and the UAE, which have always focused on improving government digitisation under the directives of our leaders," she added.
Heads of local universities, CPF CEO Tamam Mango, UAE Ambassador to Jordan Ahmed Ali Mohammad Al Balushi and several senior officials attended the ceremony.
Newsletter
Get top stories and blog posts emailed to you each day.