You are here
Syrian eateries adding pressure on local businesses in 'over-saturated market' — syndicate
By Omar Obeidat - Feb 05,2015 - Last updated at Feb 05,2015
AMMAN — Jordanian restaurant owners say their profits have taken a hit due to the hundreds of eateries recently opened by Syrians in an "over-saturated" domestic market.
Raed Hamadah, president of the Jordan Association for Restaurants and Sweets Shops Owners, said the local market is over-saturated with thousands of restaurants offering different types of food, particularly Levantine cuisine.
He added that Syrians who fled to Jordan over the past four years have opened hundreds of restaurants, which has had a negative impact on businesses owned by Jordanians.
Hamadah recently told The Jordan Times that in 2014 alone, Syrians opened around 1,100 restaurants, nearly 65 per cent of which were in the northern governorates of Irbid and Mafraq.
"These restaurants reduced the profitability of the businesses owned by Jordanians," he said, noting that although the Kingdom's population has increased sharply in the last three years due to the influx of hundreds of thousands of Syrians, the domestic market remains over-supplied with eating places.
The value of restaurants opened by Syrians last year, is around JD15 million, according to Hamadah.
Alaa Zu'bi, who manages a popular restaurant in Ramtha, 90km north of Amman, agreed with Hamadah.
"They [Syrian restaurants] are offering almost the same dishes since Jordanian and Syrian cuisines are similar," noted Zu'bi, who believes that Ramtha was the most hit by the ongoing civil war in neighbouring Syria.
Ramtha Mayor Ibrahim Saqqar said in previous remarks to The Jordan Times that the population of the city, which is near the Syrian border, has gone up from 80,000 to around 150,000 due to the refugee influx.
Hamadah argued that food outlets opened by Syrians have no added value in the domestic market as they tend to hire their compatriots.
But a Syrian who runs an eatery on Amman's Medina Munawara Street, believes that restaurants opened by his compatriots add more diversity to the types of food offered in Jordan.
The restaurant manager, who only gave his first name, Mutaz, noted that the vast majority of his customers are Jordanians, which shows that Syrian cuisine is popular in Jordan.
He said most of the Syrian restaurants that opened in Jordan used to be popular in his country before the civil war, adding that Damascus was a preferred destination for many food-loving Jordanians.
Related Articles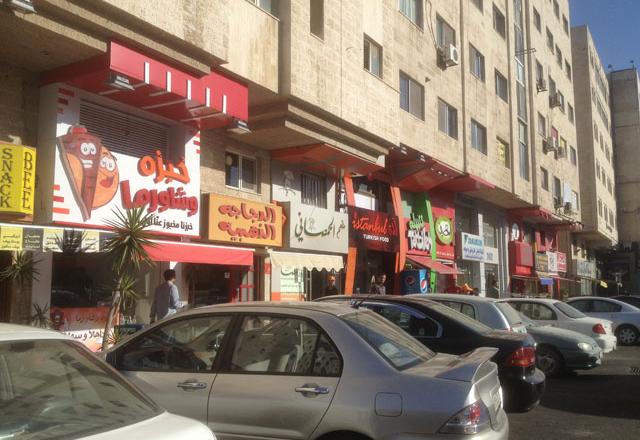 Sep 11,2014
As Jordanian consumers are spending more on eating out, hundreds of restaurants are opening every year. 
Apr 10,2018
Jordanian food is much more than the iconic national dish — mansaf. It varies across governorates and geographic regions.
Dec 02,2014
Tokyo kept its crown as the Michelin guide's gourmet capital on Tuesday with the most starred restaurants for an eight straight year, in the first guide released since UNESCO listed Japanese "washoku" cuisine an "intangible cultural heritage".
Newsletter
Get top stories and blog posts emailed to you each day.