You are here
Syrian refugees prefer to go home than to Europe — UN official
By Muath Freij - Sep 21,2015 - Last updated at Sep 21,2015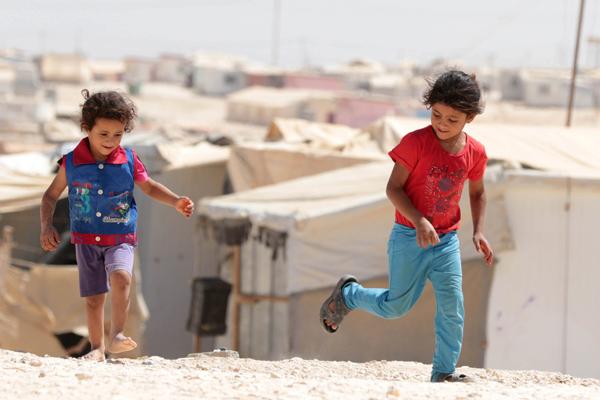 Young Syrian refugees play at the Zaatari camp, northeast of Amman, on Saturday. UN Humanitarian Chief Stephen O'Brien visited the camp during the day (AFP photo by Khalil Mazraawi)
AMMAN – A UN official has said that the majority of Syrian refugees in Jordan prefer to see the war end in their country and go back to their towns and villages.
At a press conference in Amman late Sunday, UN Undersecretary General for Humanitarian Affairs and Emergency Relief Coordinator Stephen O'Brien said that through conversations with refugees at Jordan's largest camp, Zaatari, earlier this week, he found that the top priority for families living there was the ability to one day safely return home.
"There are of course some who are thinking whether to try to make the move to Europe but they were a small minority of people," he added.
He noted that some refugees, who perceived their hometowns as safer have already gone back.
O'Brien described Jordan as a "crucial and strategic partner" for the international community through its work in facilitating the delivery of assistance to Syrian refugees.
"There are 630,000 Syrian refugees registered by UNHCR in Jordan and there are many more not registered living in Jordanian communities," he said.
He also commended the efforts exerted by the Kingdom and its people in their support of the refugees.
"Jordan has kept its borders open for millions of people seeking sanctuary from the brutality of the war," he said. "Syria's neighbours are reaching the point where the rest of the world must urgently share more of the responsibility in responding to the humanitarian needs created by the Syrian crisis and support the most vulnerable people."
O'Brien applauded the international community, which he says has been generous in its response to the humanitarian crisis in Syria.
But despite the thanks O'Brien gave, he urged everyone to strengthen their support for Jordan and other countries who have responded to the outpour of refugees from Syria. At this rate, the supply of humanitarian aid cannot keep pace with its demand, O'Brien said.
"The United Nations has comprehensive plans to save lives and alleviate the sufferings inside Syria and in the neighbouring countries, including Jordan," he said. "But the needs generated by the Syrian crisis is outpacing the generous fundings we have received. Our humanitarian appeals have only received 38 per cent of the funding necessary for 2015."
Related Articles
Sep 20,2015
AMMAN — Deputy Prime Minister and Foreign Minister Nasser Judeh and UN Under-secretary general for Humanitarian Affairs and Emergency Relief
Sep 03,2016
AMMAN — A top UN official on Friday urged the international donor community to share the Syrian refugee burden with Jordan. At a press
Oct 02,2016
GENEVA — Civilians under bombardment in Syria's rebEl held east Aleppo are facing "a level of savagery that no human should have to endure",
Newsletter
Get top stories and blog posts emailed to you each day.