You are here
Syrians fleeing Russian air strikes in south 'not heading to Jordan border'
By Khetam Malkawi - Feb 13,2016 - Last updated at Feb 13,2016
AMMAN — A UN official said that Syrian refugees are moving between villages and not towards the Jordanian border, refuting allegations that thousands of Syrian refugees are crowding on the border, fleeing Russian air strikes.
News report have said that the ongoing Russian air strikes have been driving thousands south from Daraa towards Jordan.
Andrew Harper, the UNHCR representative in Jordan, said that because most Syrians are aware the southern border is "all but closed, they will likely move between villages to avoid the bombings".
He also told The Jordan Times that "smaller numbers are gathered at some border points".
"If the situation deteriorates and a ceasefire does not come into effect, the situation would be unpredictable," Harper stressed.
In a recent statement to the media, Government Spokesperson Mohammad Momani told reporters that there is an agreement with Russia that its intervention should not increase the influx of Syrian refugee to Jordan.
Jordan now hosts 1.26 million Syrian refugees with only half of them registered with UN agencies.
Aside from the potential influx of Syrians to the southern border if military operations escalate in Daraa, there are more than 16,000 Syrians that have been camping across the border with Syria for months.
Last month, international organisations were calling on Jordan to allow entry to those Syrians who are fleeing danger zones in northern and eastern Syria.
The government was decisive in its response and said "Jordan is willing to cooperate with any country that might be able to take refugees from the border camp".
Last week, Prime Minister Abdullah Ensour said that the Syrian refugees camped in no man's land on the Jordanian border came from Syria's northeast, which is controlled by the Daesh terror group, and they arrived to the border area "smoothly" as they were "escorted".
The ease with which they travelled through the war-torn country made Jordanian authorities "suspicious", and they were prompted to carefully vet the newcomers before allowing them in, Ensour said.
"We have not stopped receiving refugees," the premier said during a press conference about the results of the London conference. However, he noted that the country has the right to vet refugees before allowing them entry.
"We do what the European countries do: they screen refugees and this is what we do," Ensour said in response to a question on the status of the 16,000 Syrians camped in the border area between Jordan and Syria.
An average of 50-100 persons of these are allowed into the Kingdom each day, officials said, with priority given to children, women and the elderly.
up
18 users have voted, including you.
Related Articles
Feb 07,2016
AMMAN — Syrian refugees camped in no-man's land on the Jordanian border came from Syria's northeast, which is controlled by Daesh terr
Mar 15,2015
With the Syrian crisis entering its fifth year this week, hosting refugees in neighbouring countries, including Jordan, is becoming more challenging, UN officials have said.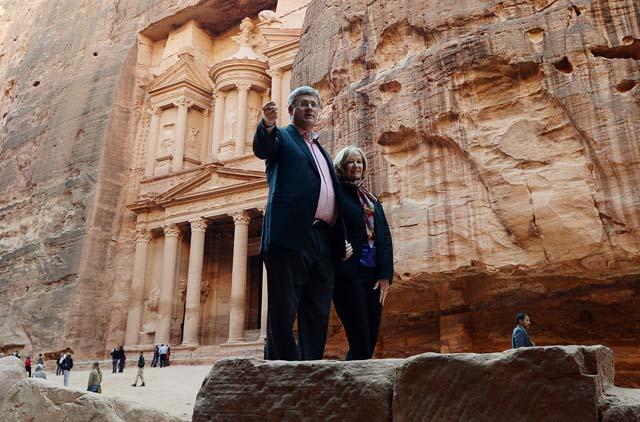 Jan 25,2014
Jordan has dealt with the Syrian refugee crisis with "unparalleled" generosity and humanity by granting refuge to thousands on its lands, Canadian Prime Minister Stephen Harper said on Friday.
Newsletter
Get top stories and blog posts emailed to you each day.