You are here
Tarawneh elected House speaker for fourth time
By JT - Nov 07,2016 - Last updated at Nov 07,2016
Prime Minister Hani Mulki congratulates Lower House Speaker Atef Tarawneh for his election at the outset of the new parliamentary session on Monday (Photo by Hassan Tammi)
AMMAN — Deputy Atef Tarawneh was elected on Monday by his peers as the Lower House speaker for the fourth time.
Under the amended by-laws of the House, his term lasts for two years, instead of one year.
Tarawneh (Karak, Watan list) won 69 votes, while his rivals for speakership MP Abdul Karim Dughmi (Mafraq, Liljamee list) and MP Abdullah Akaileh (Amman, Taawon list) garnered 34 and 21 votes, respectively.
A total of 129 deputies, out of the House's 130 members, participated in the vote; four ballots were cancelled, and one ballot was found blank, the Jordan News Agency, Petra, reported.
The Chamber formed a committee to supervise the speakership election, chaired by MP Mansour Murad (Amman, Circassian/Chechen seat) in his capacity as the most senior lawmaker, and with the membership of MPs Ali Khalaileh (Zarqa's 2nd district, Mustaqbal Zarqa list) and Mahmoud Neimat (Karak, Al Haq list).
Previously, the debut meeting used to be chaired by the oldest deputy.
Delivering a speech after the result was announced, Tarawneh said that re-examining economic laws and cooperation with various sectors are required to enhance the ongoing reform process.
He also stressed the importance of working out the necessary mechanisms for improving the performance of the legislative authority and achieving the envisioned parliamentary reform.
Prime Minister Hani Mulki congratulated Tarawneh, stressing in his remarks the Cabinet's keenness on a genuine partnership and cooperation with the legislative branch of government, in line with the Constitution.
Mulki expressed the government's willingness to present its policy statement to the Lower House at the time the Chamber sets, as stipulated in Article 53 of the Constitution, according to Petra.
The Lower House is scheduled to convene on Tuesday to elect members of its Permanent Office, which comprises a president, two deputy presidents and two assistants.
Following His Majesty King Abdullah's Speech from the Throne, the Upper House convened and elected Marouf Bakhit as the Senate president's first deputy and Samir Rifai as the second deputy.
Senators Munir Sobar and Yasera Ghosheh were elected as the president's assistants.
Senate President Faisal Fayez opened the session with a speech in which he voiced the Upper House's willingness to cooperate and coordinate with both the Lower House and the Cabinet, to enhance constructive partnership in a way that serves the Kingdom's higher interests, Petra reported.
up
43 users have voted, including you.
Related Articles
Nov 15,2015
AMMAN — Deputy Atef Tarawneh was elected on Sunday by his peers as the Lower House speaker for a third one-year term.Tarawneh's (Homeland li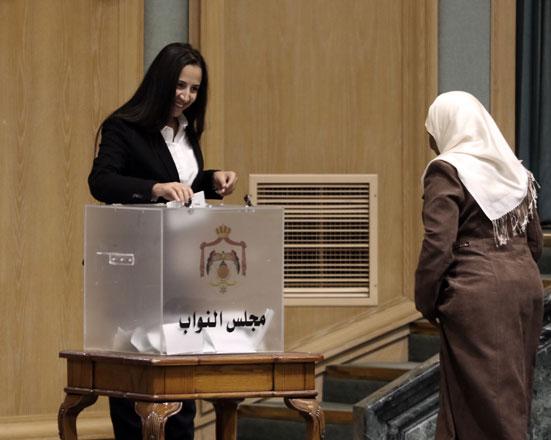 Nov 08,2016
AMMAN — The Lower House on Tuesday completed electing its permanent office members in the presence of Lower House Speaker Atef Tarawne
Nov 06,2016
AMMAN — His Majesty King Abdullah will inaugurate the 18th Parliament's first ordinary session today with a Speech from the Throne.Following
Newsletter
Get top stories and blog posts emailed to you each day.