You are here
Teachers at schools for deaf students receive training
By Mohammad Ghazal - Aug 20,2016 - Last updated at Aug 20,2016
AMMAN — Mariana Nimri, a teacher at Jabal Luweibdeh's Al Amal Secondary School for deaf students is always thinking of ways to improve the classroom experience for her students.
Since undertaking specialised training organised by the Korea International Cooperation Agency (KOICA), she says she feels better equipped to have a positive impact on her students.
Nimri was one of 50 teachers and special education administrative staff to receive training on new techniques and tools to teach deaf students, held in cooperation with Korea's Kangnam University.
"The training was great. We teachers who deal with students with hearing impairments need constant specialised training to be able to enhance the performance of our students and better communicate with them and teach them," Nimri told The Jordan Times at an event to mark the completion of the training.
The educator said a new school for deaf students is opening in Marka, with the support of KOICA.
Anas Lafi, a deaf teacher at the school, agreed.
Talking to The Jordan Times through a sign language interpreter, Lafi said the training would benefit his students.
"As a sports teacher, I learnt a lot that I can use to engage my students in the community and make them feel better about themselves," he said.
"We received training on new material and tools to teach deaf students. When the school for the deaf opens in Marka, we will be able to use these tools as at present we do not have the equipment. The school will be fully equipped to meet all students' needs, which is great for us as teachers," said Lafi.
Byun Sook-jin, KOICA country director in Jordan, said the training programme was designed in cooperation with Kangnam University to increase the teaching proficiency of staff at the new school.
"Capacity building is one of the most important components of this project. Supporting the teaching process and strengthening its foundation will create a sense of confidence for the teachers, who will hopefully be implementing their newly acquired teaching approaches in the classroom," Sook-jin said.
Some 20 teachers from Al Amal Primary School for deaf students in Marka, and 20 teachers from Al Amal Secondary School in Jabal Luweibdeh took part in the latest training programme, as well as 10 special education administrative staff from education field directorates in the Kingdom.
A further training course in Korea enables teachers to view new developments, high-tech equipment and up-to-date research in the field, according to KOICA.
Several groups of teachers and ministry staff from Jordan have already received training in Korea.
Chang Wook-kang, dean of graduate education and professor at the department of secondary special education at the Kangnam University, said the training provided teachers with new methods and educational tools to benefit their students.
"We trained the teachers on how to teach deaf [students effectively].... They received special training that covered curricula for deaf students and they were provided with educational material too. This special training is very important for the teachers to better understand and deal with those students," said Wook-kang.
Related Articles
Nov 13,2016
AMMAN — Through personal, everyday interactions, the Korea International Cooperation Agency (KOICA) is helping foster the relationship betwe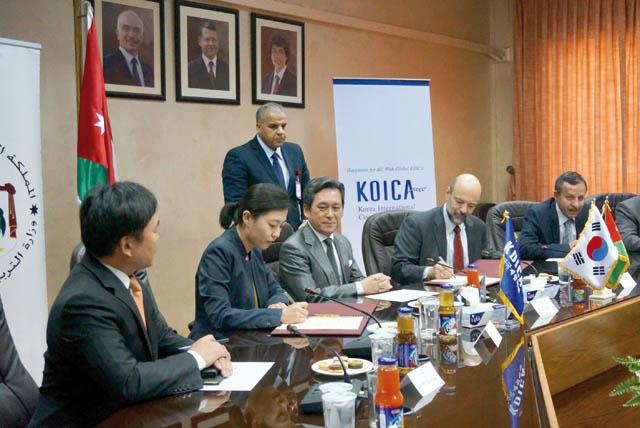 May 10,2017
AMMAN — Three new schools in Irbid, Mafraq and Zarqa will be established this year funded by a donation from South Korea.The schools' projec
Nov 30,2017
AMMAN — More than 1,000 students from Jordan University (UJ) on Wednesday attended the third edition of the "Korea in a day" festival, aimed