You are here
Teachers warn of partial strike if demands on civil service system remain 'neglected'
By Renad Aljadid - Apr 22,2018 - Last updated at Apr 22,2018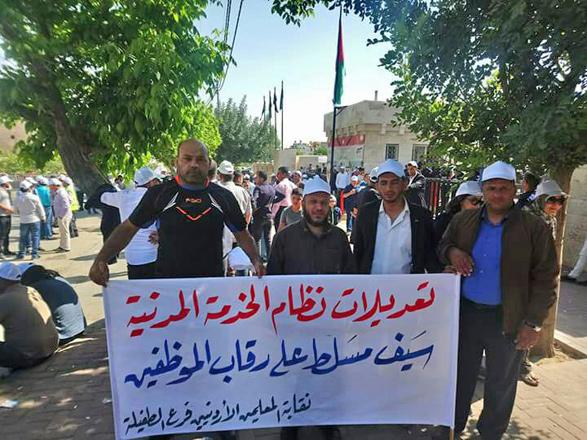 Teachers take part in a sit-in protest at the Civil Service Bureau last Monday (Photo courtesy of Ahmad Hajaya)
AMMAN — The Jordan Teachers Association (JTA) on Saturday warned of taking "escalating measures" if their demands to amend the civil service system remain "neglected".
In a statement issued on Saturday following last Monday's teachers' sit-in at the Civil Service Bureau (CSB), the association said they will organise a partial strike on Thursday and stage protests in front of the prime ministry next Monday to press for their demand.
The statement urged changing the employees' performance evaluation system, which requires institutions to have a normal distribution of the employees' rates. Under the system, each institution should count 10 per cent of employees rated as excellent, 40 very good, 40 good, 8 average and 2 weak, adding that if an employee is rated weak for two successive years, he will be dismissed from his position.
"The normal distribution is an unfair pre-judging of employees and it kills the spirit of creativity and honest competition among them," Ahmad Hajaya, spokesperson of JTA, told The Jordan Times, adding that "supervisors may now rate employees based on the normal distribution percentages, not according to their actual performance".
"Out of the 220,000 employees who work in the public sector, 4,400 are now pre-determined to be rated weak, therefore becoming prone to losing their jobs," Hajaya said, adding that "employees were hired in the first place because they are good, so it is not reasonable to dismiss them and leave them jobless".
"They can instead undergo rehabilitation and training programmes or be transferred to another position that matches their abilities," he suggested.
For his part, CSB President Khalaf Hmeisat said that the normal distribution seeks to enhance the work efficiency in the various public departments by setting an "objective" criteria, noting that the recent evaluation system resulted in more than 70 per cent of the employees rated as excellent, which indicates the necessity of a more "precise and objective" system.
"Although the evaluation rates should be normally distributed, there is still a margin of flexibility where institutions can have more excellent rates or no weak rates at all if the institutions' outcomes prove that," Hmeisat noted.
Regarding employees' dismissal, Hmeisat said that this law has been in effect since 2007, adding that "out of the 34,000 employees who were hired during the last four years, nine were dismissed, which only happened after they had exhausted all their chances to show improvement".
The association's spokesperson also said the evaluation criteria are "relative and unregulated", describing the current system as aiming to "reduce numbers, not filtering the unqualified", and called for "a clear-cut grade according to which employees are dismissed".
"The evaluation criteria are very precise and consider the differences between various professions and positions, as we want to ensure that employees are fulfilling their duties as they are supposed to," Hmeisat pointed out.
Regarding the newlyimplemented fingerprint system, which prevents teachers from leaving before the end of the school day even if they finished teaching their classes, Hajaya said that the association is not "entirely" rejecting the system, but is seeking amendments that respect the nature of the teachers' profession.
"Teachers represent 56 per cent of the entire public sector, so we demand that a civil service system put in place that meets our needs and respects our profession," Hajaya concluded.
Related Articles
Feb 01,2016
AMMAN — Over 10,000 public sector employees are currently on unpaid leave, with a majority working in the Gulf Arab countries in the educati
Dec 07,2016
AMMAN — The Civil Service Bureau (CSB), in collaboration with the EU, on Wednesday introduced the Human Resources Competency-Based Approach
Apr 25,2018
AMMAN — MPs and teachers on Wednesday traded accusations of starting a brawl and verbal insults during a meeting at the Lower House earlier
Newsletter
Get top stories and blog posts emailed to you each day.