You are here
Technology could be viable alternative for unbanked Jordanians, experts say
By Mohammad Ghazal - Mar 28,2016 - Last updated at Mar 28,2016
AMMAN — As some 75 per cent of Jordanians are unbanked, technology can be greatly deployed to boost financial integration of more segments of society by taking advantage of the high rates of mobile and Internet penetration, experts said Monday.
Strengthening financial inclusions of small- and medium-sized ventures and individuals plays a key role in driving economic growth, and alleviating poverty and unemployment, said the experts taking part in the first Jordan Digital Financial Services Forum, held by USAID and the Central Bank of Jordan (CBJ).
"Financial inclusion is very crucial for economic growth, as a large portion of Jordanian society remains isolated and not covered by financial services," CBJ Deputy Governor Maher Sheikh Hasan said at the opening of the three-day event.
"When individuals have bank accounts, they will be encouraged to make savings. The potential for more financial inclusion is huge in Jordan as the legal and legislative infrastructure is there and providing digital financial services helps reach out to those unbanked," said Hasan.
He also stressed the need to use the latest technologies to provide more digital financial services.
By the end of 2015, Jordan had 5.1 million mobile phone subscribers, with 70 per cent of the population with at least one mobile subscription. Additionally, 48 per cent of Jordanians have access to third and fouth generation broadband services.
USAID Deputy Mission Director Lewis Tatem said promoting financial inclusion will help Jordanian families become more resilient in the face of economic shocks, saving money for investment and taking advantage of opportunities that can lead to wealth accumulation.
"Financial inclusion translates into economic empowerment, particularly for women and youth, rural communities and the poor," he noted.
Referring to the USAID Local Enterprise Support Project (USAID-LENS), he said the project helps improve the financial wellbeing of micro and small entrepreneurship projects.
"We see that financial services offered through technology like mobile phones, points of sale devices, cards and computers can be key contributors to Jordan's financial inclusion vision," added Tatem
By harnessing such technologies, financial inclusion will be expanded, he said, stressing that only 15.5 per cent of women in Jordan have an account with a financial institution.
Even for the women and men who comprise the approximately 357,000 active microfinance loan clients in Jordan, many do not have a secure place to save their money as they cannot meet commercial bank requirements or it is not convenient for them to access banking services, Tatem noted.
The forum brought together industry leaders to discuss how emerging technologies and innovative digital approaches can give Jordanian businesses better opportunities to grow, develop and manage their financial livelihoods.
The three-day event will focus on ways in which Jordan can improve its digital ecosystem, explore solutions using successful global examples as benchmarks, and create public-private sector partnerships to advance the development of digital financial services.
Related Articles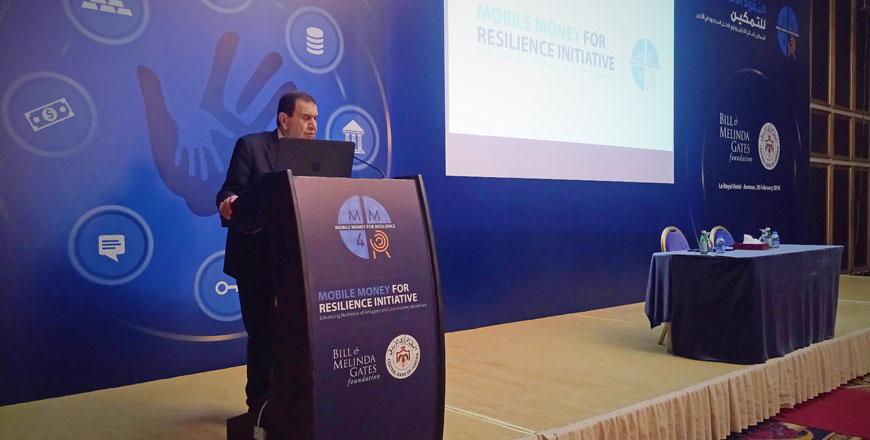 Feb 28,2018
AMMAN — The Central Bank of Jordan (CBJ) on Wednesday launched the Mobile Money for Resilience (MM4R) initiative for refugees and host commu
Aug 16,2017
AMMAN — The Central Bank of Jordan (CBJ) has formed a committee to design a national strategy for financial inclusion in the Kingdom, in coo
Nov 20,2016
AMMAN — Central Bank of Jordan (CBJ) Governor Ziad Fariz on Sunday said Jordan has been able to avoid many economic risks, thanks to the CBJ
Newsletter
Get top stories and blog posts emailed to you each day.