You are here
'Texas university eyeing further exchange with Hashemite University'
UTA president 'impressed' with Jordan's refugee response, human capital
By Marwan A. Alshammari - Dec 21,2016 - Last updated at Dec 21,2016
ARLINGTON, Texas — The University of Texas at Arlington (UTA) has been working with the Hashemite University in Zarqa and the Jordanian Nursing Council on several programmes, and it seeks to expand its cooperation further, according to UTA President Vistasp M. Karbhari.
In a recent interview, Karbhari, who met with His Majesty King Abdullah in Amman in November, said UTA is working with the nursing council to enhance the Jordanian experience in this field, as well as exchange programmes that entail training nurses and doctors from Jordan at the Texas university and vice versa.
"The Hashemite University set up very advanced labs in both nursing and engineering colleges, that will greatly contribute into the advancement of the human capital in these two areas... We are working closely with the HU on these matters, and we are about to sign new agreements in this regard," Karbhari noted.
"We at UTA are planning to increase the number of Jordanian students admitted in our university. We are planning more exchange programmes with the Hashemite University faculties and staff," he added.
During his visit to Jordan, Karbhari also met with the Hashemite University President Kamal Bani Hani and discussed opportunities for further cooperation.
"I was very impressed by the alternative energy and power systems applied at the Hashemite University, and I believe it is a very successful story and creative one," he added.
The presidents of the two universities have signed new cooperation agreements and will sign another one in March 2017 regarding the exchange programmes, which entail exchanging students and faculty as of 2017 in the nursing, medicine, and engineering fields.
The agreements also include provisions on training on advanced laboratory equipment that the Hashemite University has launched recently in both nursing and engineering.
There are, at present, only 12 Jordanian students at UTA, most of whom are graduate students in engineering, according to the Texas university.
However, Wendy Casper, the PhD programme director at the UTA college of business, said she encourages Jordanian students who would like to apply to graduate programmes in business to consider UTA.
Jordanian students, she said, tend to have "high standards of work ethics", speaking from experience with former students.
UTA is considering increasing the exchange numbers to 100 for now, and will revisit it in the future to assess and continue the increase, Casper added.
Casper said she views Jordan as "a highly distinguished country" with a positive vision for its future.
Moreover, there are ongoing cooperative projects and programmes between UTA and the Hashemite University in alternative energy programmes, which will be further developed and explored in the near future, UTA officials said.
Karbhari expressed his pride with the achievements of UTA's Jordanian alumni, commending the Kingdom for its refugee response.
"What Jordan has done should be inspiring to all of us, Jordan has been doing an honourable mission and we should all help," he added.
"I think Jordan has a key competitive advantage, which is the human capital," Karbhari noted.
Related Articles
Mar 09,2014
Four Jordanian institutions and the University of Texas at Arlington (UTA) on Sunday signed agreements to boost cooperation in education, scientific research, training and expertise exchange.
Mar 15,2014
The Aqaba Special Economic Zone Authority (ASEZA) is working towards transforming Jordan's sole port city into "a world class business hub and leisure destination", ASEZA Chief Commissioner Kamel Mahadin said Saturday.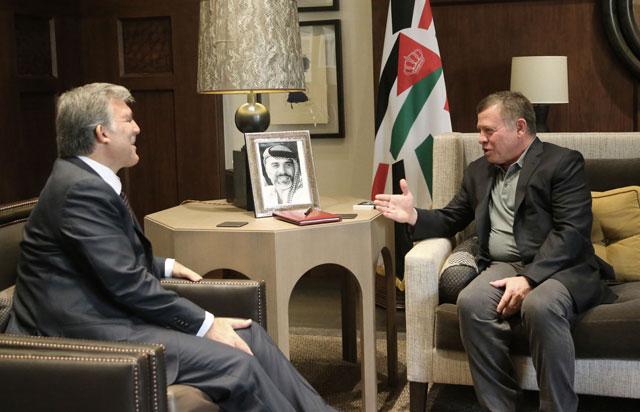 Nov 17,2016
AMMAN — His Majesty King Abdullah on Wednesday met with former Turkish president Abdullah Gül, who is currently visiting the Kingdom to part
Newsletter
Get top stories and blog posts emailed to you each day.