You are here
Thneibat discusses curricula controversy with teacher syndicate
By JT - Oct 19,2016 - Last updated at Oct 19,2016
AMMAN — Deputy Prime Minister for Services and Minister of Education Mohammad Thneibat on Monday said the ministry is looking into the Jordan Teachers Association's (JTA) feedback over the recent curricular changes.
"The ministry will not allow any sentence in the curricula that goes against Islamic and national values. We will address this if we find any," said Thneibat.
He made his remarks during a meeting with JTA President Basil Freihat and members of the association's council on Monday evening, according to the Jordan News Agency, Petra.
The meeting is the first to be held between the two parties since the controversy associated with amendments to the curricula.
Earlier this year, Thneibat formed a committee of former ministers and education experts to review textbooks and offer detailed recommendations.
Several amendments were introduced, and the outcomes were met with a mixture of criticism and praise.
The critics had a louder voice because they included the JTA.
The changes are under attack because they are perceived by some parents and education experts as a way to "alienate students from their Islamic identity".
As a result, hundreds of teachers and parents held a sit-in outside the Education Ministry in late September to protest the curricular change.
Protesters burnt copies of the textbooks and held banners that accused the ministry of scrapping the Islamic identity of the curriculum, chanting slogans that called for Thneibat's resignation.
The developments prompted Thneibat to hold a press conference to denounce what he described as a "misleading campaign waged against Jordan's educational system".
Discussions at Monday's meeting covered a number of issues related to education and the need to institutionalise the relationship between the ministry and the syndicate as well as studying the possibility of appointing liaison officers from the JTA at the education departments across Jordan.
Related Articles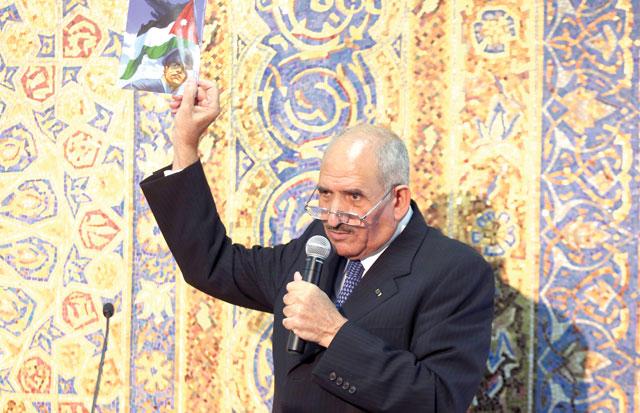 Oct 06,2016
AMMAN — Deputy Prime Minister for Services and Minister of Education Mohammad Thneibat on Wednesday denounced what he described as a "mislea
Oct 02,2016
AMMAN — Calls for a teachers' strike in late October to protest recent changes to school textbooks are "independent" and not orchestrated by
Sep 18,2016
AMMAN — The Jordan Teachers' Association (JTA) on Sunday called on Deputy Prime Minister for Services and Education Minister Mohammed Thneib